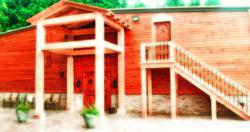 Jack & I see initial skepticism from couples, only to receive big hugs after the show and raves about how glad they are that they came. That's our favorite thing! We love getting to know our audience. They walk in strangers and walk out as family.
Hampshire, TN (PRWEB) October 16, 2012
Nashville Unleashed will present two romantic Christmas Concerts at Natchez Hills Vineyard Concert Hall on Saturday, December 8, 2012 and Saturday, December 15, 2012 from 7:30-9:00pm. Doors open at 6pm. Natchez Hills is located at 109 Overhead Bridge Rd (off Hwy 412), Hampshire Tn 38461. MAP & DIRECTIONS
Tickets will range from $40/VIP Seating to $25/General Admission Seating and are available for purchase now at NashvilleUnleashed.com. Seating is limited to 100. Dinner is included in the ticket price. For VIP Ticket holders, a complimentary bottle of old-world, handcrafted, signature wine from the vineyard will be included in the Ticket price. Wine may also be purchased, by the bottle, on site. Beer and soda will also be available for purchase by ticket holders. Parking is complimentary and plentiful. Luxury overnight accommodations are available via advanced reservation only by calling 931.285.2500. Shuttle service is available to Middle Tennessee attendees.
Ticket holders can expect to be greeted at the tranquil and transcendental vineyard tucked just off the scenic Natchez Trace Parkway, escorted into an elegant, candle-lit concert center with cypress and stone adornment, where they will be seated for dinner just prior to showtime.
A unique concert revolving around extraordinary Performing Songwriters, Jack & Diane and members from their official Nashville Unleashed Roster, will be presented. Listeners are taken on a journey of song, among superior musicianship, and heartfelt camaraderie. The concert is intimately staged to give each ticket holder a personal experience, guaranteed.
Music lovers affectionately revere long-running concert productions like Austin City Limits, VH-1 Storytellers, the Grand Ole Opry, and The Bluebird. Along that idea, accomplished Nashville musicians/songwriters, Jack & Diane, began a journey 4 years ago to honor these concepts, yet offer a more personal experience from the audience perspective; an opportunity for more connection with the Artists, with an elegant approach. So, they set out to create Nashville Unleashed and have garnered rave reviews, presenting the show to audiences all over the country.
With a distinguished, official Roster of 35 pro-level Performing Songwriters, Jack & Diane select 3 of them to join them "in the round", (which means in the center of the room), for each show. Jack & Diane have an "easy listening" musical style of songwriting with flavors of blues and smooth jazz.. The members of their Roster all span multiple musical genres, so no show is ever the same.
All of the music is written by the Artists performing them. Listeners will often hear "hits", but the beauty is in hearing the best in original music and quite likely tomorrow's hits FIRST!