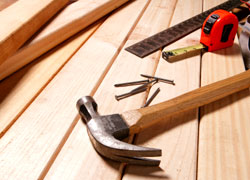 New York, NY (PRWEB) July 14, 2011
Today, Chien and Associates General Contracting Group, a New York general contractor, announced the launch of recommendations for homeowners interested in remodeling their homes to increase property values.
The cost of a remodel depends on decisions a homeowner makes long before construction starts, so it's crucial to plan ahead and give careful consideration to choosing the right contractor, the design of the project, and materials and fixtures that will be used.
Before demolition begins, homeowners should take the following steps:
1. Before hiring an architect, sketch out ideas. Think how the space will be used; consider how the new construction will affect the overall context of a house; and select finishes, fixtures, appliances, and lighting ahead of time. This not only provides peace of mind once construction begins, but contractors can give a more accurate bid if homeowners are specific about their plans.
2. Consider resale value. Even if a homeowner plans to stay in their home, in this uncertain economy no one can predict the future. Be careful of unpopular choices, such as purple countertops, which can become a problem when trying to resell a home.
3. Make a budget. Homeowners should do research and make decisions about where they want to splurge and save well in advance of the remodel. Make sure there's enough money to finish the project. Add an extra 10 percent to cover unexpected expenses.
4. Make sure to pick a contractor who is qualified, experienced, licensed, and fully insured. A remodel can quickly turn into a nightmare if a homeowner chooses the wrong contractor. Ask for recommendations and check references. Do not begin any remodeling without a written contract.
5. Be prepared for the inconvenience. For a kitchen remodel, set up a temporary kitchen with a microwave or hotplate. Plan on plenty of dust and cover furniture and beds with heavy plastic drop cloths. Empty closets if remodeling is in a bedroom.
With a little planning, homeowners can be assured of a happy ending, content with the way money was spent and an updated home they can enjoy.
About Chien and Associates General Contracting Group
Chien and Associates General Contracting Group specializes in remodeling and renovation, including interior and exterior work, roofing, siding, tile, and cement work. Owner Tom Chien founded the business in 2010, based in Flushing New and services the New York metropolitan region. For more information please call (718) 696-8579 during working hours.
###