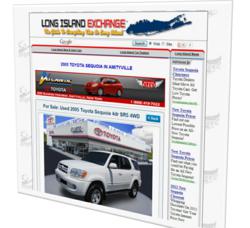 We feel that these new domain names only add to what we are creating to be the central point of used car shopping on Long Island
Copiague, NY (PRWEB) August 19, 2012
LongIslandExchange.com, owned and operated by Long Island Exchange Inc. has announced the addition of two vanity domain names NassauCountyUsedCars.com and SuffolkCountyUsedCars.com advertising and promoting car dealers located within the (516) and (631) area codes covering Nassau County and Suffolk County New York. LongIslandExchange.com, created over a decade ago, with offices located on Montauk Highway in Copiague, is well recognized as the leading local portal specifically for Long Island residents as well as visitors to the area.
"We feel that these new domain names only add to what we are creating to be the central point of used car shopping on Long Island," said John Colascione, Founder and Managing Partner of Long Island Exchange Inc. "The automobile section is among the fastest-growing categories on our web site and has been built using our own propriety technology designed and developed specifically for displaying local dealership inventory located within the (516) and (631) area codes covering Nassau and Suffolk County New York. Through our partnerships with local media sites like NewsLI.com/cars/, and others, our automotive endeavor will allow consumers to quickly and easily find used cars here on Long Island and provide local dealers with an affordable option to reach this new customer base" he added.
"Our programmers are some of the best in the country. Their hard work and dedicated effort has allowed us to develop, in-house, our own technology, similar to the automotive industry's leading sites, valued at hundreds of thousands of dollars – for just a fraction of the cost," said Brian Keegan, Chief Executive Officer.
As of the 2010 census, Long Island had a population of over seven million people (7,568,304) who call Long Island home, making it the most populated island in the United States.
About Long Island Exchange Inc.
Launched in 2002, LongIslandExchange.com is a privately owned media company providing Long Islanders with a wealth of information, news, local business data, and resources for planning activities in the area. The web site serves over 1.8 million visitors who generate an average of 4,655,983 page views per year. [*Source: Google Analytics: 11/2011]. The site has won five awards from BOLI, Best on Long Island, in best of categories like "News, Media and Publications" as well as "Best Web Site of the Year".