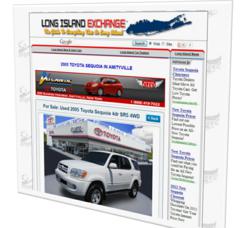 The used car section has been built using our own in-house propriety technology designed and developed specifically for displaying inventory within the Nassau, Suffolk, Brooklyn and Queens
Long Island, NY (PRWEB) October 23, 2012
Long Island Exchange, Inc. (http://www.liexchange.com) has announced it will move towards helping local consumers find new and used cars, trucks and SUV's to Long Island's residents. Consumers looking to buy new or used automobiles can now find automotive dealer specials available in their local area by visiting LongIslandExchange.com/automotive/
"The used car section is a fast-growing area of our busy web site and has been built using our own in-house propriety technology designed and developed specifically for displaying local dealership inventory located within the (516), (631), (718) and (917) area codes covering Nassau, Suffolk, Brooklyn and Queens New York" said John Colascione, Founder and Managing Partner of Long Island Exchange Inc.
President Brian Keegan says, "Most automotive sites target users nationally; with users having to drill down to inventory local to them while often being presented with deals from around the country. No other region in the United States offers a specific portal for searching used cars in one particular market or surrounding a large metropolitan area like LongIslandExchange.com".
In additional to local syndication partnerships, the Internet company also announced the acquisition of four corresponding Internet domain names NassauCountyUsedCars.com, SuffolkCountyUsedCars.com, BrooklynCountyUsedCars.com, and QueensCountyUsedCars.com which will support its market reach as well as provide an easy way for consumers to remember how to quickly pull up new and used cars within Nassau, Suffolk, Brooklyn and Queens County.
About the Company
Long Island Exchange, Inc. is a media company that was first launched in 2002. It is privately-owned and offers Long Islanders and surrounding residents a portal of information including news, business data, classifieds and other important resources. LongIslandExchange.com is a free service with no subscription fees, membership dues or charges to access information and has won several awards, including "Best on Long Island" and "Best Website of the Year". The site frequently appears at the top of other 'best of' categories for news and media publications.