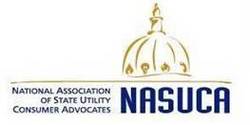 All consumers deserve the availability of broadband at an affordable price
Washington (Vocus) April 13, 2009
Areas that lack broadband availability should receive first priority in allocating funding under broadband investment provisions of Congress' economic stimulus package, the National Association of State Utility Consumer Advocates (NASUCA) announced today. Federal agencies should rely on states' expertise for those decisions, according to NASUCA.
NASUCA will file its comments with the National Telecommunications and Information Administration and the Rural Utilities Service later today in response to a joint request for information on implementing broadband investment portions of the American Recovery and Reinvestment Act of 2009.
"All consumers deserve the availability of broadband at an affordable price," said David Springe, Consumer Counsel for the State of Kansas and President of NASUCA. "In an effort to stimulate the economy, states should serve as a vital resource to help determine how to dedicate public funding to do what the private sector has been unable or unwilling to do: Provide all Americans with reasonable access to modern broadband access, even in areas or among populations that are less profitable to serve."
Communities and areas that still - in the first quarter of 2009 - lack any broadband service and instead are forced to rely on dial-up or satellite service unquestionably deserve to be considered a priority.
NASUCA is calling for the funding process to be as transparent as possible. When funds are awarded, the process should be fair and devoid of any real or perceived conflicts of interest. NASUCA believes the private sector should be eligible for publicly-funded projects only where public or non-profit organizations are equal partners, thus providing a degree of self-monitoring and accountability.
The nation's utility consumer advocates also address the development of a broadband inventory map required under the new law.
NASUCA states that the map envisioned by Congress should be a tool for consumers seeking to shop for broadband offerings in their local area. Consumers should be able to obtain detailed and accurate information about the kinds and capabilities of broadband service available, if any, in their local community. The map should also be useful for potential broadband providers looking for market opportunities to fill service gaps and looking for middle-mile broadband infrastructure that they can connect to, NASUCA notes.
About the National Association of State Utility Consumer Advocates (NASUCA)
NASUCA (http://www.nasuca.com) is a non-profit, national organization of more than 40 state offices designated to represent consumers in state and federal utility proceedings. NASUCA regularly participates in proceedings before the FCC and other federal regulatory agencies.
Contacts:
Ryan Lippe of the
Office of the Ohio Consumers' Counsel
(614) 466-7269
Patrick Pearlman of the West Virginia
Consumer Advocate Division
(304) 558-0526
###