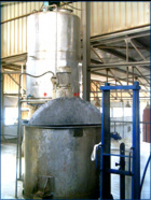 "Our 50% increase in production capacity is creating a remarkable potential for exporting"
(PRWEB) November 9, 2010
NASYDCO- National Company for Chemical Industries enters a critical phase as it witnesses a remarkable increase in its production lines as part of its strategic growth to better serve the local as well as the competitive global markets. In 1992, NASYDCO adopted a growth strategy and decided to build a new unit for emulsion polymerization to produce polyvinyl acetate homo and co-polymer which are used in many applications; stiffening for carpets & textile, adhesives for wood & paper, and binders for emulsion paints.
"Our expansion comes at the perfect time as NASYDCO continues to focus on business growth objectives, international sales and exporting. Our industry knowledge will prove valuable as we further penetrate the global marketplace." stated Mohamed Zakaria, Managing Director of NASYDCO.
Expansion is not only in terms of capacity, NASYDCO is also widening its product portfolio; this quarter witnessed the launch of a new product Veova/ Acetate copolymer which is used for decorative emulsion paints, more new products are yet to come in the coming period.
"NASYDCO has achieved continuous growth in the Egyptian market in the past few years, and with our expansion strategies we are very confident that it will enable us to serve global customers better and develop business for our vendors on a higher level." added Ashraf Salem, General Manager.
Contacts:
Mona Ahmed
info(at)nasydco(dot)com
(+2)-02-37616256
About NASYDCO:
NASYDCO is an Egyptian company working in the chemicals industry, established in 1986. The company is an ISO 9001 certified leading manufacturer and distributor of chemicals and emulsion polymers in Egypt and the neighboring markets. It is considered as a pioneer among the chemical manufacturers in Egypt.
The company produces textile auxiliary chemicals used in different stages for fabrics and yarns such as pretreatment, dyeing, printing, and finishing stages which include wetting, sequestering, detergent, fixing, antifoam, dispersing softener and many others. http://www.nasydco.com
###