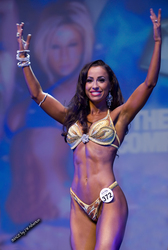 Anyone can get fit on a budget, you just need to decide, commit and be consistent.
Buffalo, NY (PRWEB) February 12, 2010
Natalia Muntean, self-made fitness wonder came from a small town in Ukraine to the top of the Fitness Industry Worldwide in just 18 months.
Now residing in Sarasota, Florida, Natalia Muntean overcame many obstacles on her way to success including an eating disorder. Her talent, determination, persistence and great work ethic has gained her the undivided attention of some of the biggest fitness publications in the world, such as Oxygen Magazine (US and Canada), Flex Magazine (US), Physique Magazine (Dubai), Natural Bodz Magazine (Australia, New Zealand, US and Canada), Ultra Fit (UK), World Physique Magazine (US), Natural Muscle, Fit and Firm E-Magazine to name a few; featuring her not only as a model, but also as a writer and columnist for multiple fitness, nutrition, beauty, and fashion articles.
Natalia was coined "the queen of glutes" by her fitness competitors and colleagues. Ms. Bikini Universe is a self-made, self-taught, self-trained champion and is a Certified Trainer, Wellness and Nutrition Consultant.
She is a spokes model for the Nationwide Infomercial Power Plank (Abs Machine) and Formula 55 Workout DVD, which will whip you into shape in 55 days GUARANTEED!
"Anyone can get fit," says Natalia (she got fit by training herself in her own living room), "It doesn't take a lot of money to get in shape, and your three components to success are Decision, Discipline, and Consistency in your training and nutrition programs."
Natalia Muntean has recently launched her new fitness website http://www.BodyByNatalia.com for anyone who wants a free fitness and nutrition advice; you can also subscribe to her Free Newsletter in order to be updated with new exercises, recipes, great tips and much more.
Natalia is truly following her passion for fitness, and this champion will be a force to reckon with for years to come.
###