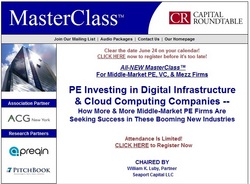 Virtualization and cloud computing are transforming the tech landscape
New York City (Vocus) June 3, 2010
The dramatic potential of cloud computing and digital infrastructure will take the spotlight on June 24th as a new conference debuts in New York City with an elite industry panel that includes Nat Burgess, President of mergers and acquisitions specialist Corum Group. He joins other luminaries in New York City June 24th for the new all-day "Master Class" on PE investing in digital infrastructure and cloud computing PE investing in digital infrastructure and cloud computing companies, in a panel addressing "Getting the Jump on Doing Digital Infrastructure and Cloud Computing Deals in 2010."
Designed to meet the needs of GPs, LPs, & managers of buyout, growth equity, and other funds, the organizers also target officers and directors of portfolio companies, investment bankers and other industry organizations, advisors and professionals with actionable information and unique networking opportunities related to this booming area.
"Virtualization and cloud computing are transforming the tech landscape," said Nat Burgess, "creating new opportunities for inventors, investors and operators. Corum Group is pleased to participate in this timely event, helping investors uncover tomorrow's blockbuster companies."
Conference organizers cited the surge in worldwide IT budgets for cloud computing alone forecast to hit $42 billion by 2012, and PE piling into 9-figure deals like Hostway, Quality Technology, and Seattle's Sabey Data Centers. Burgess and other panel members will help attendees understand the challenges.
Burgess and other speakers at the conference will discuss the most significant opportunities for 2010 and 2011 – including cloud hosting, colocation, business continuity, content services -- plus address:

Why digital infrastructure has become such an attractive area for PE investors
Where the most significant opportunities lie for middle-market investors in cloud computing and digital infrastructure
Which financial and operational strategies can help portfolio companies gain greater success
What changes in the Electronic Communications Privacy Act and other regulations may impact the digital infrastructure space.
Why even though the data center space is highly capital intensive, there is ample opportunity for smaller firms to get into the data center space even without expansion capital on hand - but why access to power at a workable cost is an ever-present risk.
How brown field, green field, and acquisitions based developments are re-configuring market entry opportunities.
Registration at Capital Roundtable
About Nat Burgess
Corum Group President Nat Burgess, a highly sought speaker at industry conferences, first brought his diverse background in tech M&A and law to Corum in the mid-1990s. Previously, while with the Enforcement Division of the SEC, he helped identify and build cases against securities fraud schemes. Prior to that, while with the Strategic Development Division of Morgan Stanley's M&A group, he focused on cross-border acquisitions of U.S. and European companies by Japanese firms, and on Japanese public company financings. Burgess relocated to the Tokyo office, reporting directly to the President of Morgan Stanley, Japan, and focused exclusively on cross-border M&A.
After Morgan Stanley, Burgess co-founded Postcard Software, a creator of advertiser-driven bilingual (English and Japanese) Internet content. At Activision, he led the company's on-line business development. He earned his law degree from UCLA, and his undergraduate degree in Japanese literature from Yale.
About The Capital Roundtable
The event's sponsor is America's leading conference organization focusing on "need-to-know" information for professionals in the middle-market private equity community. For more information about The Capital Roundtable's 30 annual MasterClasses and other events and programs, please visit Capital Roundtable.
About Corum Group
Corum Group, the global leader in software M&A and sponsor of the monthly Technology Mergers and Acquisitions Webcast, has specialized in serving tech companies worldwide for 25 years from its offices throughout the US and in 7 other nations. The firm has completed over 220 software M&A transactions across six continents while generating over $6 billion for clients. Each Corum Group M&A Advisor is backed up by a team of the software M&A industry's top researchers and company valuation experts, using the world's most extensive database of active and potential buyers of software, internet and IT services companies. This knowledge, along with Corum's experience and leadership, drive its commitment to success in orchestrating wealth-producing exit events for its clients.
###