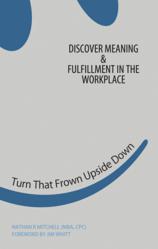 Tulsa, OK (PRWEB) September 26, 2012
On the heels of discovering his own purpose, growing businesses and empower people by helping them find purpose, meaning and fulfillment in their work, Business and Leadership Development Coach Nathan R Mitchell, releases his second book, "Turn That Frown Upside Down," to enrich the lives and businesses of his readers through the transformational power of purpose.
"Turn That Frown Upside Down," which was a top-selling book in it's category during it's first week on Amazon.com, is a short fable targeted at people in career transition who want to discover their purpose.
In "Turn That Frown Upside Down," Mitchell introduces his readers to a thirty-five year old disengaged mid-level manager named Matthew. Matthew has recently entered the "Age of Questioning," and is desperately seeking answers to the decisions he has made, his life experiences, his personal struggles, and even his current circumstances.
According to Mitchell, business professionals in their twenties have more answers than they do in their thirties and forties. This "Period of Answers" tends to be quite effective in the short-term as men and women pursue the dangling carrot; something he defines as "The Carrot Factor." However, focusing exclusively on career advancement is "A Broken Model." It doesn't work long-term, and it doesn't produce fulfillment.
The problem lies not in trying to be the best we can be in the workplace, but in pursuing advancement at the expense of finding purpose and meaning in our work, and at the expense of things that are truly important. At some point careers stop producing intrinsic fulfillment, and people start looking for answers.
In a moment of serendipity, Matthew encounters one man who will forever change the course of his life. Not only does he discover his purpose, something he thought was only meant for a select few individuals in the world who had been called to do extraordinary things, but he also learns the true essence of what it means to be a great leader.
Long story short, Mitchell's passion is infectious, leaving his readers as inspired as they are informed.
For readers who are anxious for more guidance from Mitchell, he offers a FREE subscription to his weekly e-mail newsletter, which is available on his company website at http://www.ClutchConsulting.net.
He is available for media interviews, business and leadership development consulting, and professional speaking engagements.