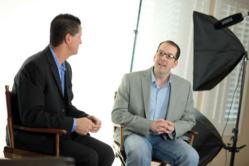 Nathan provides you the fundamentals you need to get in the game and win!

–James Malinchak, Featured on ABC's Hit TV Show Secret Millionaire, Co-Author Chicken Soup for the College Soul, Founder www.bigmoneyspeaker.com
Las Vegas, NV (PRWEB) April 25, 2012
Business Coach, Nathan R Mitchell, is helping business owners and aspiring entrepreneurs achieve their goals and dreams in the world of entrepreneurship and free enterprise. And people are taking notice.
Most recently, Mitchell caught the eye of ABC's Secret Millionaire, James Malinchak. Since 2001, James has had a strong passion for serving others. He has literally impacted hundreds of thousands of people through his business strategies, public speaking, live seminars, private coaching, books and home study courses.
"I want to serve as many people as I possibly can," says Mitchell. "More people are starting businesses than ever before, and they need the right knowledge, tools, and resources to help them succeed. I do that through my coaching programs and my subscription-based monthly audio series, The Winning Mindset."
And perhaps that's why Malinchak has taken notice. He knows what it means to serve others, and to serve them well. It's an important part of his life! Malinchak gave away over $100,000 of his own money on ABC's TV Show, "Secret Millionaire," and he continues to raise money for children's charities year after year.
Mitchell is also a published author, public speaker, and the co-founder of The Venture Network. His first book "Give Me the Ball! Winning the Game of Entrepreneurship" was published in 2011 and is available at numerous online book retailers, including Amazon.com and Barnes and Noble.
"My mission is simple: Growing Business and Empowering People! Whether I accomplish that through coaching, writing, or speaking, it really doesn't matter to me. I'm just passionate about helping business owners and aspiring entrepreneurs reach new levels of success in their business and personal life by offering services that are both empowering and insightful. It's my God-given purpose!"
Malinchak, who also co-authored Chicken Soup for the College Soul, and founded BigMoneySpeaker.com, says that "Nathan provides you the fundamentals you need to get in the game and win!"
Nathan's passion for business and entrepreneurship, and for the winners who pursue it, started in young adulthood, and has stayed with him to this day. He has earned a Bachelor of Science Degree in Entrepreneurship, an MBA from Missouri State University, and most recently, a Certification in Professional Coaching (CPC).
In addition to his strong foundation in academics, Nathan also has "real-world" experience in many aspects of Business Management and Leadership due to his decade of experience in Operations Management with a Fortune 50 company.
For those looking to learn more about Mitchell's services, or to see his recent interview with James Malinchak, visit: http://www.bestbizcoaching.info
Contact Information:
Nathan R Mitchell (MBA, CPC)
c/o Clutch Consulting LLC
3939 S. Harvard Ave. Suite #175
Tulsa, OK 74135
918.851.7246
###