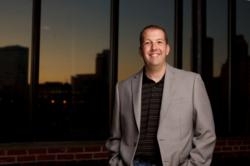 "Nathan provides you the fundamentals you need to get in the game and win!"

James Malinchak, Featured on ABC's Hit TV Show Secret Millionaire, Co-author Chicken Soup for the College Soul, Founder www.BigMoneySpeaker.com
(PRWEB) March 21, 2012
People are starting businesses now more than ever; some out of necessity, and others simply because they have realized that the traditional job-market isn't always what it's cracked up to be.
Unfortunately, many aspiring entrepreneurs and business owners don't have the right tools, knowledge, or resources they need to succeed.
And because of that, many fail!
That's why entrepreneur and business coach, Nathan R Mitchell, is putting together a monthly audio CD series entitled "The Winning Mindset."
His first program, "7 Strategies for Entrepreneurial Freedom and Success" will be available for purchase April 1st, 2012. Each month, subscribers will have a new dose of coaching and business expertise delivered right to their mailbox.
"It is my mission and my purpose to help as many aspiring entrepreneurs and business owners as possible learn how to grow their business, empower themselves, and ultimately succeed," says Mitchell. "My new audio series, 'The Winning Mindset,' is one of the best investments new entrepreneurs and business owners can make in this economy"
In addition to giving his monthly subscribers the knowledge, tools and resources they need to succeed, Mitchell helps them avoid and overcome the seven common causes of small business failure, which he discusses at length in his Brian Tracy endorsed book, "Give Me the Ball! Winning the Game of Entrepreneurship."
"This is a great resource for people who can't afford one-on-one coaching or consulting. Many entrepreneurs and business owners today are looking for a valuable, yet affordable alternative to spending hundreds of dollars per hour to work with a trusted authority," says Mitchell. "My audio series gives them the alternative they are looking for, plus I throw in 30-days of email coaching completely FREE. My subscribers can ask me anything!"
For those interested in learning more, a subscription to "The Winning Mindset Series" includes:
1) A new audio CD, chock-full of content, delivered to your mailbox each and every month! ($197 Value)
2) SPECIAL BONUS #1: A FREE subscription to Mitchell's monthly newsletter ($97 Value)
3) SPECIAL BONUS #2: A FREE copy of Nathan's Brian Tracy endorsed book "Give Me the Ball! Winning the Game of Entrepreneurship" ($20 Value), and...
4) SPECIAL BONUS #3: Four Private Coaching Emails *First Month Only (Priceless)
Currently, those who are committed and ready to invest in themselves and take action can purchase a subscription for only $97 per month (over a $400 value).
"I'm so excited to see how many people will be helped with this new product," says Mitchell. "My subscribers will be blown away by the amount of value I offer them!"
Mitchell also plans on partnering with and interviewing high-profile, successful entrepreneurs, looking to share their story and expertise with his monthly subscribers.
Mitchell's "3 SPECIAL BONUSES OFFER" is for a LIMITED TIME ONLY. Hurry, this offer expires in 30 DAYS!
To learn more, or to start subscribing today, visit: http://www.winningthegameofbusiness.net/?page_id=298
Contact Information:
Nathan R Mitchell (MBA, CPC)
c/o Clutch Consulting LLC
3939 S. Harvard Ave. Suite #175
Tulsa, OK 74135
918.851.7246
###