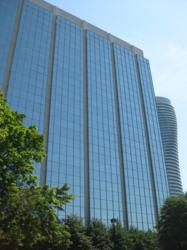 Mississauga, Ontario (PRWEB) August 28, 2012
As part of its vision to provide excellent and aggressive representation to more clients in the Greater Toronto Area, Nathens, Siegel, LLP, a leading law firm that is dedicated to the practice of divorce and family law, has expanded into Mississauga.
Nathens, Siegel LLP's new Mississauga office is located in the Mississauga Executive Centre at 2 Robert Speck Parkway, suite 240. As in its North York office, which is located at 4950 Yonge Street, suite 2408, the firm's experienced, caring and specialized Mississauga staff will help clients with all aspects of family law matters, including:

Divorce
Separation Agreements, Cohabitation and Agreements, and Marriage Contracts
Property division
Custody and access matters
Representation in court
Access and visitation issues
Settlement negotiations
Children's Aid Society cases
Child and spousal support
Adoption
Collaborative Divorce, Mediation, Arbitration, and litigation
"We've proudly served clients across the GTA and the York Region from our North York office for more than 18 years, and over that time our practice has grown considerably," commented firm partners Ken Nathens and Brahm Siegel. "We're pleased to expand our reach, so that we can provide clients in the Mississauga community with the same legal services that they need, and that we're known for throughout the legal community."
"We're especially pleased to offer clients in the Mississauga community our expertise in alternative dispute resolution, such as collaborative divorce, mediation and arbitration," commented partner Barbara Kristanic, who leads the Mississauga office and is joined by associate Aida Pasha and law clerk Nichola Reid. "When suitable, these methods can help divorcing spouses save money, time and stress, and move forward with their lives as quickly as possible."
Prospective clients who wish to schedule an initial consultation with a specialized family lawyer at Nathens, Siegel's new Mississauga office can call 416-222-6980 or email info(at)nathenssiegel(dot)com.
During their visit, they will receive complimentary copies of Ontario Divorce Magazine, a Divorce Guide, and information and pamphlets on Collaborative Family Law.
About Nathens, Siegel, LLP
Nathens, Siegel is a law firm dedicated to the practice of divorce and family law. They have extensive expertise in family law, including mediation, arbitration and collaborative family law. Their family lawyers are familiar with the divorce law and proceedings in Ontario. The take pride in advising clients of their rights and options, and helping them reach informed decisions about their best and most cost-efficient course of action. The firm's team of family law lawyers range in experience from 2 to 18 years of practice. The firm also offers extremely competitive rates that vary by lawyer and years of experience. Learn more at http://www.nathenssiegel.com.