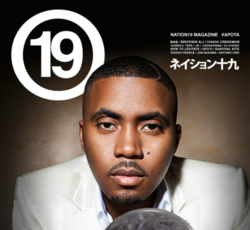 Rapper Nas met with Nation19 to be the first to get the specialty package.
Scottsdale, AZ (PRWEB) February 19, 2013
Today's community understands the importance of disaster preparedness in some type of way. Whether we believe in the fall of this economy, being attacked by UFO's, or just want to be prepared just in case we can't make it to the store during a blackout.
In fact…

76% of movies produced in 2011/2012 were about the end of the world or a natural disaster.
Several news agencies in the US reported or covered stories of preparation for survival.
Over 50% of America's youth are unaware of the importance of disaster preparation.
(Source: Mobile Regime, LLC a Scottstdale Multimedia Design and Marketing firm)
Queen Muhammad Ali, CEO and Co-founder of Nation19/APDTA, an internationally recognized streetwear brand/magazine, showcased this in her company's Fall Collection along with her sister and Co-founder Masaniai Muhammad Ali. The brand has stock lists in various boutique stores around the world as well as online. They launched their Fall/Winter collection "The Fall of America Fall/Winter", this past season spotlighting the importance of S.H.T.F., Survival etc., which led to the upcoming release of their limited collectors package called the "Survival Kit" for 2013. "We believe this is the perfect time to use different approaches to disaster preparedness and its importance especially in the state of our current economy, and how being prepared and looking good while doing it can help educate and position today's youth in any economy" said Queen. Multi-platinum recording artists such as Nas, Wyclef Jean, Erykah Badu, and Snoop Dogg, wear and have endorsed the street brand/magazine Nation19. They will also be launching the latest issue of Nation19 Magazine which has been labeled as a cross between Complex Magazine and National geographic. The Magazine will be available for purchase in both print and as a digital download, featuring stories and exclusive interviews with rapper/actor Nas, Brother Ali, AllHipHop.com's Co-Founder Chuck Creekmur, Wu-Tang's Cappadona, Ufologist Antonio Urzi, Banksy, TED prize winner JR, and other creative talents and taste makers around the world.
On February 19th 2013, they will be releasing the limited collectors package "Survival Kit". Rapper Nas met with Nation19 to be the first to get the specialty package.
The "Survival Kit" includes:
Custom limited "Alive" tee on black combed cotton (collectors edition)
Extremely soft and durable Nation19 vintage black, jersey knit, pullover hoodie
Military grade water canteen
WWII authentic dog tag with personalized name (12 characters max)
Band Aids
Survival tips
All conveniently packed in an actual durable, secure, artillery military cartridge. All items included are only available in the "Survival Kit" and are not sold separately.
About Nation19:
Nation19 was originally founded in Scottsdale, AZ during the winter of 2010, by Designer and Director Hakeem Khaaliq, Queen Muhammad Ali, and Music Producer Masaniai Muhammad Ali as a streetwear apparel company. The brand is considered a lifestyle project influenced by a variety of defining traits from the UFO phenomenon, metaphysics, ancient mathematics, indigenous cultures, Hip-Hop to skateboarding. Owned and operated by Scottsdale design and marketing firm, Mobile Regime, LLC. Nation19 has several distinctive brands that are trademarked in the US and abroad. Now sold worldwide online and stock lists in specialty stores across the United States, Nation19 has expanded beyond apparel, accessories and headwear, to a seasonal magazine.