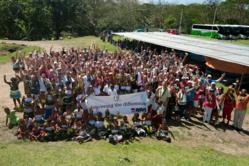 We wanted to spend some time making this a better community. It's very rewarding, flattering and for many of us it is very emotional.
Burlington, NC (PRWEB) September 22, 2012
Imagine being a young child with no shoes to wear, no desks at school, no air conditioning and no real signs of that changing in the future.
For 85 students at Fiji's Ratu Ilaisa Memorial School that was normal life, until National Agents Alliance decided to make a difference in the lives of hundreds of people in the Semo community, which was ravaged by floods earlier this year.
National Agents Alliance, with the help of Foresters -- an international life insurance provider committed to the well-being of families, donated new desks, tables, bookshelves and backpacks filled with personal necessities like shoes and toothbrushes.
More than 200 representatives from National Agents Alliance, an Insurance Marketing Organization specializing in financial products, volunteered their time to help assemble, paint and stuff backpacks for the students during their visit to Nadi for annual trip to recognize its top sales agents. The effort allowed NAA to complete its goal of "Having fun, making money and making a difference."
NAA President and CEO Andy Albright said visiting with the community, especially the children, reinforced the efforts of his team.
"I want to thank Foresters for all their special efforts to help provide us an opportunity to experience something like this," Albright said. "I think it's an incredible part of Foresters' mission that we love and appreciate. We look forward to doing more things like this all around the world. We were excited to be a part of this project. It was amazing to visit the school and see how much it meant to the children."
In addition to facilitating this volunteer effort, Foresters donated $30,000 and partnered with Pacific Destinationz and Herbert Construction to handle logistics including choosing the school, purchasing supplies and coordinating transportation and installation. The work took place September 12th and 13th and a dedication ceremony was held on September 15th at the school.
George Mohacsi, President and CEO, Foresters said spending a few hours while on a trip to one of the most exotic locations in the world was important because of the lasting impact it would have on the community.
"We wanted to spend some time making this a better community," Mohacsi said. "It's very rewarding, flattering and for many of us it is very emotional."
National Agents Alliance presented the school's Head Teacher, Mosese Volavola, with a plaque to place in the school to commemorate the event in front of the Semo community, the school staff and the children who performed for the group of 300 plus people afterward.
After the presentation, NAA spent time meeting the children, viewing the school and started an impromptu game of rugby with the children.
Volavola said that roughly 70 to 80 percent of the students' families are unemployed or farmers. He said the gift made to the school would take years for the community to provide.
"The gift to our school was timely," Volavola said. "Thank you for your act of kindness. Life is like a boomerang. What we are and do comes back to us. Give to the world the best you have and the best will come back to you. Thank you for making our dreams materialize on this special occasion."