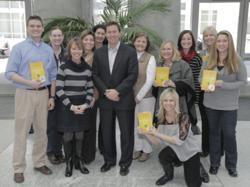 I had some teachers that made a difference in my life, now, wherever I go, I take that with me on my journey.
RALEIGH, N.C (PRWEB) February 04, 2012
Principal Julie Hancock of Marvin B. Smith Elementary started reading Jon Gordon's books over the summer, but she had no idea her staff would meet with the best-selling author of The Energy Bus on Saturday.
After speaking to more than 2,000 at the Raleigh Convention Center, Gordon, the keynote speaker at National Agents Alliance's "Be Your Own Rock Star" Version 2.0 National Convention, graciously met with a group of 30 teachers and administrators from Smith, signed copies of his books and posed for a group picture.
Hancock, who was named Smith's principal this summer after serving as assistant principal for the two previous years, presented copies of The Energy Bus to her staff of more than 50 prior to the start of the school year. She never imagined she would meet and talk with Gordon after using his book to motivate her staff.
"I had some teachers that made a difference in my life," Gordon told the group from Smith. "Now, wherever I go, I take that with me on my journey."
Gordon, who has inspired thousands and is working with the Boston Celtics this NBA season, encouraged the Smith group to keep changing the lives of young people for the better.
"Jon told us we were making a difference," Hancock said. "He talked about how teachers had made a difference in his life and how he remembers them still. Those words meant a lot. He's made a huge impact on the culture at Smith Elementary. I've been able to share it with other leaders to make a difference in other schools too."
National Agents Alliance president and CEO Andy Albright and his wife Jane invited Hancock to bring her staff to hear and meet Gordon, who has shared his principles with numerous NFL, NBA, college coaches and teams, Fortune 500 companies, school districts, nonprofits and hospitals. It was Jane Albright who shared the book with Hancock over the summer, knowing she was a school administrator, and that she would be leading teachers for the next 180 days during the school year.
"We owe the meeting to the Albrights," Hancock said. "We, as a school, could never have had this opportunity without them. When they extended a free invitation, there was no hesitation of whether or not we would accept. I know it rejuvenated the staff to hear Jon Gordon, shake his hand, and see face-to-face him living out his book and the principles he writes about. I know it fueled us to complete the current school year as one of our best."
In the teachers' lounge at Smith, a bulletin board hangs on the wall with a stack of "bus tickets" inviting those on Hancock's "Energy Bus" to share their personal stories of how Gordon's 10 rules to fuel your life, work and team with positive energy has changed their outlook. Hancock gave her staff the theme "Get on the Bus" at the beginning of the year and she said it has made a positive impact. Some Smith teachers have even used the book as a teaching tool with students. Some classes have "Energy Bus" bulletin boards where students can share their personal goals for the school year.
At weekly staff meetings, Hancock pulls out one of the 10 rules of the "Energy Bus" for her staff to focus on.
"It has really impacted all of us in a positive way and I think they have used it in their lives to be better people," Hancock said. "He doesn't realize just how many lives he has touched through his books."
The Albrights said it felt good to be able to reward local educators for their efforts in the classroom through Gordon's visit with National Agents Alliance, an insurance IMO with 7,000 agents located across the United States.
"Teachers are underpaid and they choose their profession because they want to make a difference in the lives of young people," said Jane Albright, a former school teacher. "Being able to reward the staff at Smith was something we wanted to do. We certainly don't take for granted the job teachers do in and out of classrooms with the future leaders of this country. On behalf of National Agents Alliance, this was just a small way of saying, 'thank you' to them and we hope they enjoyed their visit with Jon at our event."
###