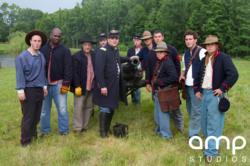 Our AMP Studios team has done a great job on this project so far and we can't wait to see the next portion of the film in Raleigh.
Burlington, NC (PRWEB) July 03, 2012
National Agents Alliance will release the world premiere of the second installment of its movie "Key To Tomorrow" at its Leadership Conference on July 13, NAA President and Chief Executive Officer Andy Albright announced today.
The movie, which is being produced by AMP Studios, is set in the present, past and future in a fashion similar to the Back To The Future series. Alex Fitzgerald portrays the life and times of Marty, a struggling entrepreneur trying to make it big in a tough world of financial uncertainty. Marty befriends Dr. A.L. Bright, played by Albright, and finds out that he is actually the key to making his dreams come true.
The Key To Tomorrow saga takes Marty from present day back to 1974, the Civil War and then into the future and back. Along the way, however, Marty encounters a series of roadblocks that he has to overcome before saving his family and future generations.
"Our AMP Studios team has done a amazing job on this project so far and we can't wait to see the next portion of the film in Raleigh," Albright said. "It's the largest production we've taken on and our team has been up to the challenge. People will be impressed with the final product and the buzz about our film has been amazing. It's only going to get bigger and better from here."
The first episode of the movie was released in April and is part of a year-long celebration of NAA's 10th anniversary. The film is being shot entirely in North Carolina and is one of a number of films being shot in the Tar Heel state this year. "Iron Man 3" (Robert Downey Jr., Scarlett Johansson), "You Are Here" (Owen Wilson, Zack Gallifianakis) and "Susie's Law" (Emmanuelle Vaugier, Jon Provost) are all in production in North Carolina. "Hunger Games" was also filmed in the Old North State and was released earlier this year.
In addition to the release of the second portion of the film, attendees will get to hear keynote speaker Brian Tracy (Eat That Frog author and motivational speaker), Clebe McClary (motivational speaker and Vietnam War hero), Tim Goad (motivational speaker and cultural coach) and several other special speakers.
The event will be held at the Raleigh Convention Center, where more than 3,000 people are expected to attend from July 12-15. National Agents Alliance holds two events annually, bringing in more than $1 million dollars to the Raleigh economy.
"Our national events are important and that's why we decided to world premiere the latest part of our film that week," Albright said. "If you want to see it first, you've got to be at the event."
To learn more about the film, visit KeyToTomorrow.com.