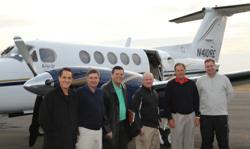 Burlington, NC (PRWEB) January 24, 2012
Mutual of Omaha celebrated another banner year partnering with National Agents Alliance in 2011 and rewarded some of National Agents Alliance's executives with a dinner and round of golf last week.
The partnership between the two companies started on June 1, 2009 and has seen tremendous growth, with National Agents Alliance submitting more than 500 total applications in 25 out of 52 weeks in 2011. Additionally, National Agents Alliance surpassed the 500 application count for term life express applications for the first time in 2011. NAA typically submits more than 300 term life express applications weekly, but submitted more than 500 several weeks in 2011.
Mutual of Omaha's John Haver, a senior vice president agency sales, and Brent Bench, brokerage life sales director, took a dozen members of the NAA team to dinner on Jan. 16 at the Angus Barn in Raleigh, N.C., then flew some of NAA's executives to Orlando, Fla. to play a round of golf at the Waldorf Astoria Country Club the following day.
Haver said the partnership between Mutual of Omaha and National Agents Alliance has continued to get stronger each year.
"This is a celebration of all the success we've had with NAA and Mutual of Omaha," Haver said. "It's been an incredible run in my mind. There's a lot of history in just those few years we've been together. If you look at what NAA has done for Mutual of Omaha, NAA is now the number one provider of life insurance at Mutual of Omaha and that didn't very long to happen. It's become a true partnership. It's done nothing but grow in the last three years. We appreciate the relationship and we couldn't be happier. In the beginning, we talked about being significant to each other and I think we've reached that point. We look forward to many more years of doing business together."
National Agents Alliance President and Chief Executive Officer Andy Albright said his company expects to surpass all its previous sales records with Mutual of Omaha in 2012. Early submitted applications numbers and 2012 projections back up Albright's expectations.
"We took some time to celebrate the victories we had in 2011 and Mutual of Omaha has shown us an unbelievable appreciation for our results. We expect 2012 to be another amazing year for National Agents Alliance and Mutual of Omaha."
Bench, who works directly with the NAA team, said watching NAA's growth in just three short years has been incredible. He said he expects nothing but bigger things from the partnership in 2012.
"We've had a great relationship with NAA," Bench said. "For the third year in a row, NAA has been our number one life account and they've set three records in a row. We are as thrilled as we can be and we are looking forward to another big year in 2012. We think it will be another record year for NAA with Mutual of Omaha."
ABOUT MUTUAL OF OMAHA
Mutual of Omaha Insurance Company was chartered in 1909 and offers a diversified line of individual and group health and accident insurance products nationwide. Mutual of Omaha's life insurance subsidiary is United of Omaha Life Insurance Company. United of Omaha was founded in 1926 and offers a diversified portfolio of life insurance and fixed annuities products.
ABOUT NATIONAL AGENTS ALLIANCE
National Agents Alliance is an innovative lead generation and marketing organization that sells life insurance, annuities, and other financial services products through more than 7,000 active independent sales representatives in 50 states. Focused on serving middle-income families, National Agents Alliance is the No. 1 United States provider of mortgage protection insurance and offers a broad array of other affordable products from highly regarded companies such as Mutual of Omaha, Foresters, and ING. Since its inception in 2002, National Agents Alliance has helped more than 670,000 families successfully apply for more than $78 billion in life insurance coverage.
For more information about National Agents Alliance, visit http://www.nationalagentsalliance.com/contact-us or call 1-866-752-1163
###