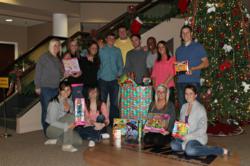 We are very proud of our team because they continually step up to give back for organizations like Toys for Tots.
(PRWEB) December 12, 2012
Quickly a box overfilled with so many toys that National Agents Alliance event planner Katie Reavis had to start a pile in the floor during the company's Christmas party on Dec. 7.
In typical NAA fashion, the Alliance wasn't just going to have fun at its staff party. The National Agents Alliance team also made a difference to children in Alamance County, delivering around 100 toys for the Toys for Tots program.
When the toys were delivered on Tuesday to the Burlington Toys for Tots location, a female volunteer commented, "Oh my goodness." She added, "This will help so much."
The toys will end up in the hands of local children on Christmas Day. Toys for Tots is a program started by Major Bill Hendricks and the Los Angeles Marine Corps Reserve unit in 1947.
Roughly 2,500 children in Alamance County will receive gifts because of the organization. The first drive in 1947 donated 5,000 toys and led to the U.S. Marine Corps Reserve starting the movement on a national level.
More than 420 million toys have been collected and donated since the program started and National Agents Alliance was happy to help that number grow this year.
National Agents Alliance President and Chief Executive Officer Andy Albright said he was proud of his staff for making the effort to give back to the Alamance County community, especially with a program associated with the military during the holidays.
"We are very proud of our team because they continually step up to give back for organizations like Toys for Tots," Albright said. "We are also very thankful to the U.S. Marine Corps Reserve and all who serve our country and protect our freedoms that we enjoy. So many children deserve to have a good Christmas and part of that experience is being able to open a nice toy on Christmas Day. Organizations like Toys for Tots help make that happen and I'm happy that our team is a part of that effort."
Marine Corps Reserve Units, located throughout the nation, conduct toy collection and distribution campaigns in the communities near their reserve centers each year. To expand the nationwide coverage of Toys for Tots, the Marine Toys for Tots Foundation authorizes Local Community Organizations (LCOs) to conduct campaigns in communities without a local reserve unit.
ABTF agent mentor Robbie Craft said he was happy to see so many toys donated for the cause.
"It's tough to think that some children out there won't have any presents to open on Christmas Day even though that's a reality," Craft said. "I love that our company believes in always giving back and I hope we've at least reduced the number of children that won't enjoy the special moment of seeing a present with their name on it under the tree on Christmas."
Campaigns begin in October and last until Dec. 22 annually. The toys are sorted and stored in distribution centers. As Christmas nears, Marines distribute toys themselves and enlist the aid of local social welfare agencies and churches to distribute toys to needy children on Christmas Day. The program's success also relies heavily on volunteers in each community and people who bring in toy donations.
For more information on Toys for Tots, visit http://www.toysfortots.org.