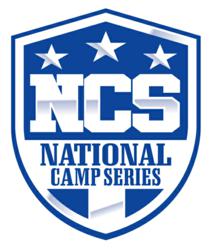 There was a solid talent pool and stiff competition
among kickers, punters and snappers.
Matawan, NJ (PRWEB) November 07, 2011
Swirling winds gave specialists fits all afternoon as kickers, punters, and long snappers attempted to take their best shot at achieving a good ranking on the National Camp Series (NCS) newly launched KIX Player Index Rating.
The KIX Rating System was created by former NFL kicker Michael Husted.
The NCS event, hosted by former Rutgers' kicker Lee McDonald of Special Teams Solutions, drew some of the area's best college prospects to compete with each-other. More importantly, players have the opportunity to see where they rank along with other kickers from across the nation on the NCS KIX Rating System.
"Overall, there was a solid talent pool and stiff competition among kickers, punters and snappers," said McDonald,
In the NCS College Division (Class of 2012 and College Transfers), college transfer Chris Garraffa proved that he is a legit D1 potential by posting solid numbers on field goals, kick-offs and punts. Lucas Santangelo also showed good pop on the ball, kicking off the ground on field goals.
"Lucas is definitely one of the best kickers on Long Island this year," said McDonald.
According to McDonald, long snapper Joe Fortunato displayed good strength and speed who said "he has a good frame for a long snapper and has solid D1 abilities." McDonald added Zach Cooper also demonstrated he is a legit college snapping prospect by showing good athleticism and speed on the ball.
In the NCS Varsity Division (Class of 2013), Jim Cooper continues to show he the best kicking prospect in the northeast for the class of 2013. McDonald commented Cooper has "great size, leg and poise."
In the NCS Junior Varsity (JV) Division (Class of 2014), Frank Raggo wowed the upperclassmen with a great leg and accuracry on field goals. McDonald commented that, "No one believed he was only a sophomore."
For more information about these events and the NCS KIX system go to the NCS website.
For more info on Lee McDonald visit Special Teams Solutions.
For more info on Husted Kicking or Michael Husted, visit Husted Kicking.
###