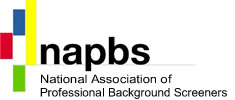 InstantCriminalChecks.com has become a regular member of the National Association of Professional Background Screeners
Boston, MA (PRWEB) February 19, 2013
InstantCriminalChecks.com by Screening Intelligence has become a regular member of the National Association of Professional Background Screeners, affording the company the opportunity to vote on important issues related to national criminal history checks and employment background checks. As the most elite professional organization in the industry, the NAPBS makes it a priority to advocate for its members and to constantly provide educational opportunities through industry advancement initiatives.
More than 300 businesses, corporations and individual people associated with the employment background checks industry participate in the NAPBS. Membership is broken down into three separate categories: regular members, associate members and affiliate members. As InstantCriminalChecks.com provides national criminal history checks directly to its customers, the company is a regular member in good standing with voting rights. Affiliate and associate members include legal firms, consulting professionals, human resources professionals, public information officers and data and technology professionals.
The NAPBS strives to keep all people related to the industry informed of the latest news and developments about professional employment background checks. The organization hosts a conference annually that focuses on providing training opportunities for members of all types. There also is a meeting held in the middle of each year to keep everyone up to date, and the organization puts on monthly webinars for members who are interested in participating.
InstantCriminalChecks.com feels it is important to stay abreast of the latest industry news and developments while at the same time participating in industry advocacy efforts. It will remain a committed member of the NAPBS and work to pass along all new and relevant information to its customers. InstantCriminalChecks.com provides background checks and employment screening information to its clients from all 50 states, and prides itself on its ability to provide instant results in most situations. By joining the NAPBS, the company maintains its commitment to providing accurate results to allow its clients to make the most well-informed decisions.
About Instant Criminal Checks
InstantCriminalChecks.com offers national criminal history checks for employment screening background checks that range from $15 to $60, giving you the affordable options that you need. Whether you need state criminal background checks or a national criminal history check, InstantCriminalChecks.com is equipped to provide you the information you need in only seconds.