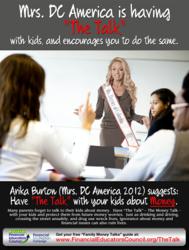 Tucson, AZ (PRWEB) August 21, 2012
The National Financial Educators Council's National Ambassador for the Financial EduNation Campaign, Arika Burton, raises awareness about financial literacy at the Mrs. America pageant taking place August 23rd – 29th in Tucson, Arizona. Mrs. Burton chose financial literacy as her platform when she won the Mrs. DC America contest. Now she brings national attention to the financial literacy movement as she competes in the Mrs. America Pageant.
Arika Burton is a financial consultant in Washington DC that received degrees from the University of Maryland in both Finance and International Business. During her studies and helping people with their personal finances, she recognized that teaching money management lessons can have a lasting impact on individuals and communities. She also was featured in the NFEC's financial literacy PSA 'The Talk'.
Mrs. America is a reality-based prime time television special that has 51 delegates from across the country competes for the Mrs. America title. Each year the new Mrs. America makes appearances throughout the country and will represent the US in the Mrs. World contest.
"We are excited to have Arika as a National Ambassador to the Financial EduNation Campaign. Her passion for helping people better manage their money is apparent, and with her competition in the Mrs. America contest she can do a lot to raise national awareness to the financial literacy movement," states Vince Shorb, of the National Financial Educators Council.
Arika Burton says, "Becoming Mrs. DC America is an honor, and I am appreciative of the opportunity to reach a wider audience with my platform of raising awareness for financial literacy. This is a cause I am passionate about, and it is great to work with the National Financial Educators Council because they are as committed to the cause as I am."
Mrs. Burton plans on reaching citizens across America with the message of financial literacy that especially targets encouraging high school personal finance. Her objective is to raise awareness for the overall movement while motivating individuals to pick up the practical personal financial lessons that can make a difference in their lives and the country as a whole.
The NFEC is a social enterprise organization that provides turnkey personal finance solutions that improve the financial capabilities of people globally. The NFEC partners with celebrities and positive influential role models to raise awareness for the financial literacy movement. The Financial EduNation Campaign provides complimentary personal finance resources to organizations that help them share real world money management lessons with those they serve.