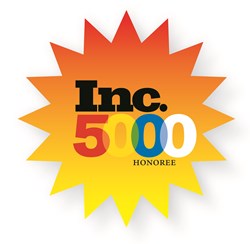 "It's great for our business customers to know that we have met Inc.'s stringent criteria and are amongst the best of the best in the Inc. 500|5000," said National Funding CEO, David Gilbert.
San Diego, CA (PRWEB) September 19, 2013
National Funding, a small business financial services company, is pleased to announce it made the 2013 Inc. 500|5000 list of America's Fastest Growing Private Companies. National Funding achieved its No. 3724 rank with a three-year sales growth of 78 percent.
The list represents the most comprehensive look at an important segment of the economy – America's independent entrepreneurs. The companies on this year's list reported having created over 520,000 jobs in the past three years, and aggregate revenue among the honorees reaching $241 billion.
National Funding serves the small business community nationwide by offering a range of financial services and products. It is an industry leader in small business lending working with companies in hundreds of communities and industries to lend working capital to business owners who need cash to expand their operations. In addition, National Funding is a leader in equipment leasing and financing, offering small businesses the ability to expand and upgrade their business equipment. Every customer is matched with a National Funding account manager who has specific knowledge about their specific industry. Customers are able to get working capital, merchant cash advances, credit card processing, and equipment leasing.
"Not all the companies in the Inc. 500|5000 are in glamorous industries, but in their fields they are as famous as household name companies simply by virtue of being great at what they do," says Inc. Editor, Eric Schurenberg. "They are the hidden champions of job growth and innovation, the real muscle of the American economy."
"According to the U. S. Census Bureau, in 2010 there were approximately 5.7 million employer business firms. It's great for our business customers to know that we have met Inc.'s stringent criteria and are amongst the best of the best in the Inc. 500|5000," said National Funding CEO, David Gilbert.
To learn how National Funding helps businesses get funding to achieve growth, go to http://www.nationalfunding.com/working-capital.
About National Funding
San Diego-based National Funding is a full service financial services company for small to medium-sized businesses nationwide. It provides working capital loans, equipment leases, merchant cash advances and credit card processing. National Funding serves a wide diversity of businesses including, but not limited to: trucking, restaurants, automotive repair, construction, excavation, multimedia, manufacturing, telecommunications, printing, packaging, waste management, and more. National Funding was recently recognized as one of San Diego's 2013 Fastest Growing Companies. For more information, visit the company's website http://www.nationalfunding.com.
Methodology
The 2013 Inc. 500|5000 is ranked according to percentage revenue growth when comparing 2009 to 2012. To qualify, companies must have been founded and generating revenue by March 31, 2009. They had to be U.S.-based, privately held, for profit, and independent—not subsidiaries or divisions of other companies—as of December 31, 2012. (Since then, a number of companies on the list have gone public or been acquired.) The minimum revenue required for 2009 is $100,000; the minimum for 2012 is $2 million.
About Inc.
Founded in 1979 and acquired in 2005 by Mansueto Ventures, Inc. is the only major brand dedicated exclusively to owners and managers of growing private companies, with the aim to deliver real solutions for today's innovative company builders. Total monthly audience reach for the brand has grown significantly from 2 million in 2010 to over 6 million today.