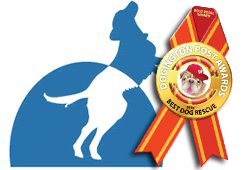 National Mill Dog Rescue has shown widespread reach, developed national education programs and have saved the lives of thousands of dogs.
Boca Raton, FL (PRWEB) February 14, 2013
As part of a larger initiative to educate dog owners on proper nutrition, effective training, and other ways to raise a happy and healthy dog, the Dogington Post reviewed products, toys, food, treats and rescue groups for their first annual Dogington Post Awards of 2012.
"We used strict criteria when nominating organizations for this award," explained Brandy Arnold, Content Editor for Dogington Post. "All our nominees have proven a dedication to dog welfare, educating the public on responsible pet ownership, and nationwide initiatives to end the homelessness of animals."
Readers and fans voted for the Best Dog Rescue and chose National Mill Dog Rescue as their favorite.
Established in 2007, National Mill Dog Rescue is dedicated to educating Americans on the cruelty of puppy mills, encouraging them to adopt only animals from shelters and rescue groups or reputable breeders, and rescuing former mill dogs. Theresa Strader, NMDR's Founder and Executive Director, rescued an Italian Greyhound named Lily from a dog auction in Missouri. Prior to that day, Lily had spent the first seven years of her life as a commercial breeding dog, a puppy mill mom. Determined that her years of living in misery would not be in vain, Strader started NMDR, giving a voice to mill dogs across the country.
"National Mill Dog Rescue really impressed us and our readers," Brandy said, "The organization has shown widespread reach, developed national education programs and have saved the lives of thousands of dogs around the globe. They have a unique and important mission."
Upon hearing the news of their award, Theresa Strader said, "I wish to extend my most sincere thanks to the Dogington Post for choosing National Mill Dog Rescue (NMDR) as the Best Dog Rescue for 2012. What a tremendous honor! As a young organization, this award makes us extra proud. We work so hard each and every day to provide the highest level of loving care for all of our dogs and to be recognized for those efforts is a very special feeling for us all."
Theresa continued by saying, "NMDR was built on passion, determination and a great love of dogs. In our five short years, we have rescued over 7,300 puppy mill survivors. The journey has been extraordinary and could not have been accomplished without the backbreaking work and support of our volunteers and our fans, many who took the time to write and vote in the Dogington Post contest. I was so touched by the outpouring of love and support from across the country. NMDR is fortunate. I am so grateful to the Dogington Post for your efforts in promoting adoption and animal welfare education."
Dogington Post reaches over 2.5 million dog lovers each week. The site's readers were asked to vote for their favorite dog rescue in an online contest that ran through December 2012 and January 2013.
Since National Mill Dog Rescue was the winner of Dogington Post's Best Rescue of 2012, they are entitled to donations and efforts by the site for dog rescue for 2013.
"We are proud to announce NMDR as the gold medal winner in our Best Dog Rescue category," said Arnold. "We hope to increase awareness of this great organization with ongoing promotions and campaigns throughout the coming year."
For more information about Dogington Post and their Dogington Post Awards, visit http://dogingtonpost.com.
About Dogington Post:
DogingtonPost.com was created for the love of dogs. It promises a forum of informative articles, newsworthy dog stories, health and breed information, and heartwarming videos. The site addresses current issues affecting dogs and their human parents – from serious health concerns to lifestyle issues on feeding, grooming and the overall well-being and mental health of dogs. It is the Internet newspaper, all about dogs.
About National Mill Dog Rescue:
http://www.milldogrescue.org/ National Mill Dog Rescue rescues, rehabilitates and re-homes retired commercial breeding dogs from puppy mills. NMDR gives these dogs a new beginning and a final chance to find happiness and comfort in a loving home. Run almost solely by volunteers, NMDR has pledged to put an end to the cruelty of the puppy mill industry. Through widespread informative efforts, NMDR hopes to educate the public to acquire their companion animals through reputable breeders or better yet, from shelters and rescue groups across the country.