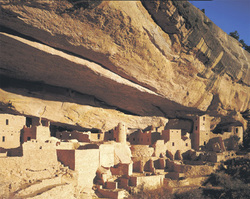 50 Places to Visit in a Lifetime
Cortez, Colo. (Vocus) June 16, 2010
The Vacation Dilemma: What to Do, What to Do. You're going to Colorado on vacation. Ready to explore archaeological sites from the ninth century, hike tall mountains, and experience the real west? Then come to Mesa Verde Country®.
In an area roughly the size of Rhode Island, Mesa Verde Country lays claim to two national scenic byways, one national forest, one national park, two national monuments, and one tribal park. The Mesa Verde Country Visitor Information Bureau has compiled a list of the top 15 things to do in the area to assist vacationers with planning their visit.
1. Mesa Verde National Park – Selected by National Geographic Traveler as one of "50 Places to Visit in a Lifetime," the park is one of America's greatest archaeological treasures. The park also includes the Metate Room, one of Colorado's top 10 restaurants, featuring gourmet sustainable cuisine.
2. Canyons of the Ancients National Monument – In a region known for its archaeological wonders, the Monument has more than 100 archaeological sites per square mile – the highest density in the nation.
3. Anasazi Heritage Center – The center houses Canyons of the Ancients National Monument's visitor center, a research center and hands-on exhibits. Two small archaeological sites are located on the center's grounds.
4. Hovenweep National Monument – Protecting six prehistoric, Ancestral Puebloan (Anasazi) villages spread over a 20-mile expanse of mesa tops and canyons along the Utah-Colorado border, the monument is noted for its towers, its solitude and undeveloped, natural character.
5. Ute Tribal Park – The Ute Mountain Utes, one of the seven original Ute bands that inhabited Colorado, operate the park as a primitive area to protect its cultural and environmental resources. Ute guides interpret Ute Indian history, pictographs, geological land formations, and Ancestral Pueblo petroglyphs, artifacts and dwellings.
6. Cortez Cultural Center – A regional center for living culture, the center hosts free performances by Native American dancers and musicians, and includes a museum of Ancestral Puebloan and early pioneer history, as well as the Hawkins Preserve, a local archaeological site dedicated to the preservation of native plant and animal life.
7. National Scenic Byways

San Juan Skyway – The "Most Beautiful Drive in America" winds through the historic towns of Telluride, Ouray, Silverton, Dolores, Mancos and Durango, with access to some of the west's most famous attractions: Mesa Verde National Park, Ouray Hot Springs, the Durango and Silverton Narrow Gauge Railroad and Museum, and four wilderness areas.
Trail of the Ancients – The byway is full of archaeology and culture in the heart of the high desert Colorado Plateau. Arid and mostly uninhabited, the terrain along the trail encompasses Mesa Verde National Park, Hovenweep National Monument, the Anasazi Heritage Center, Ute Tribal Park, Cortez Cultural Center and the Four Corners Monument.
8. San Juan Mountains hiking – The San Juan National Forest, comprising nearly 2 million acres, covers an area measuring 120 miles east to west and 50 miles north to south. Hundreds of miles of trails take visitors by alpine lakes and meadows, canyons, waterfalls, cataracts, unusual geologic formations and historic mines. Both the Colorado Trail and the Continental Divide National Scenic Trail pass through the Forest.
9. Dolores River Canyon – The Dolores River, with Gold Medal fishing, rafting and kayaking runs through the town of Dolores, with mountains on either side.
10. McPhee Lake – Colorado's second largest body of water features boating, water skiing and fishing.
11. Trail rides – Experience the old west by participating in an authentic cattle drive or taking a horseback ride into the mountains – and enjoying some authentic cowboy chow afterward.
12. Four Corners Monument – Located in the desert on the Navajo and Ute Indian Reservations, the monument is the only place in the United States where you may be in four different states at the same time.
13. Rio Grand Southern Railroad Museum – Honoring the area's rail history, the museum features an exact replica of Dolores' original train deport and the completely restored Galloping Goose #5 railcar. The Goose carried mail – and nervous passengers – over narrow-gauge track through southwest Colorado's San Juan Mountains until 1952.
14. Conquistador Golf Course – This championship 18-hole, par 72 course features sand traps, water hazards, a driving range and putting green. From almost any spot on the course, golfers may view the La Plata Mountains, Mesa Verde National Park and Sleeping Ute Mountain.
15. Wineries, microbreweries and Distilleries – Mesa Verde Country is home to Guy Drew Vineyards, Main Street Brewery, Coyote J Brewing Co., Dolores River Brewery and Mancos Valley Distillery. For those visiting in August, the Mesa Verde Country Food, Wine and Art Festival includes acclaimed winemakers' dinners, Colorado wines, food from area producers, art and music from local artists.
Mesa Verde Country® (http://www.mesaverdecountry.com)
Mesa Verde Country is the southwest Colorado travel destination surrounding Mesa Verde National Park. The towns of Cortez, Dolores, Mancos and Towaoc, and the entire Mesa Verde Country area, comprise the archaeological center of America.
Contacts: Lynn Dyer, Mesa Verde Country® Visitor Information Bureau, 800-530-2998, lynnd(at)mesaverdecountry(dot)com
Gaylene Ore, Ore Communications, 970-887-2536, gaylene(at)orecommunications(dot)com
###