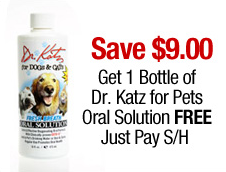 Free Promotional Offer for Dr. Katz Pet Oral Solution for Fresh Breath, a complete oral health solution for dogs and cats.
(PRWEB) May 29, 2012
May is National Pet Month (National Pet Month), a registered charity that advertises this special month as a time when pet owners not only celebrate the relationship they have with their beloved pets but also remember the importance of taking exceptional care of their pet's health. Started in 1989, National Pet Month was also created to promote awareness of the mutual benefits received by owners and their pets when living together as well as advocating for the advantages of assistance animals. Each year, the National Pet Month organization holds events that convey a theme associated with pets and the theme for 2012 is "Your pets and you: a winning team".
To honor National Pet Month, TheraBreath® has decided to extend a promotional event specifically designed to improve the oral health of our favorite four-legged friends.
Because we sincerely believe that the oral health of dogs and cats should be addressed all year round, we are currently advertising a free promotional offer for TheraBreath's Dr. Katz for Pets Oral Solution.
To request a free sample bottle of TheraBreath's Dr. Katz Oral Pet Rinse (a $9 value), simply fill out and submit the form on this website (https://www.therabreath.com/pet/), along with a shipping and handling fee of $7.95. This promotional offer is only available in the United States and Canada (limited to one bottle per household).
This free sample of Dr. Katz's for Pets Oral Rinse contains a proven oxygenating solution that is safe and effective to use for the promotion of oral health in cats or dogs. Cats and dogs, just like people, will develop tooth decay, gingivitis and breath that smells bad enough to offend other cats and dogs if their owners do not take proper care of their mouths. Unfortunately, every pet owner has gotten a strong whiff of their dog or cat's breath when the animal has yawned or barked in the owner's face and wondered if there was something that could be done about Fido or Fluffy's dreadful halitosis.
Dr. Katz, the distinguished dentist responsible for discovering the revolutionary line of
TheraBreath products designed to totally eliminate bad breath in humans, has also created a similar product that will get rid of your pet's smelly breath. Specifically designed to improve a dog or cat's oral health, Dr. Katz for Pets Oral Solution or Spray contains the same oxygenating ingredients found in the human version of his products that attacks mouth debris and destroys bacteria responsible for "doggy" breath.
Ingredients in TheraBreath's Dr. Katz Dog and Cat Oral Solution are unique because they are formulated to control tartar build-up particular to animals as well as eliminate sulfur compound-producing, anaerobic bacteria accountable for the funky odor emanating from your pet's mouth. Consisting of natural substances like purified water, PEG-40 hydrogenated castor oil, sodium bicarbonate and benzoate and Dr. Katz's special ingredient OXYD-8®, TheraBreath's Dr. Katz Dog and Cat Oral Solution will make getting close to your pet a more enjoyable--and fresher--experience.
When dogs and cats do not receive treatment for periodontal disease and continue to suffer from bleeding gums, loose teeth, abscesses and halitosis, they become vulnerable to other diseases extremely harmful to their overall health. Just as humans may experience heart disease, respiratory and lung infections, sepsis and possibly kidney failure from severe gum and tooth diseases that remain untreated, dogs and cats will suffer the same consequences.
Accumulations of bacteria and food particles along a pet's gum line that are not adequately removed will form plaque, which eventually turns into calculus, a substance created when plaque is consistently mixed with minerals and saliva. Gingivitis may result from this condition, inflaming the animal's gums and leading to noticeable spaces between the teeth and the gums. These pockets only serve to facilitate growth of anaerobic bacteria, bad breath and periodontal disease by providing microbes with extra space in which to proliferate.
By regularly giving your pet Dr. Katz's TheraBreath Dog and Cat Oral Solution, you are completely cleaning your pet's mouth of bad-breath causing debris and preventing destructive bacteria from damaging his mouth, teeth and gums. In addition, Dr. Katz has made it easy to keep your pet healthy by facilitating administration of his oral solution. All that is required of pet owners is for them to put two capfuls of the solution in the animal's water bowl or pour the solution into a spray bottle and spray directly onto your pet's tongue, teeth and gums.
Although periodontal disease is usually found in older pets, it can affect pets of all ages when owners do not address oral hygiene. If allowed to progress, gum and tooth disease may result in affected dogs and cats needing bone replacement, guided tissue regeneration and advanced techniques involving periodontal splinting that is both painful and expensive.
Simply using Dr. Katz's TheraBreath Dog and Cat Oral Solution several times a week can effectively prevent your pet from developing serious health problems stemming from rotten teeth, gingivitis, plaque build-up and inflammation. And don't forget that TheraBreath's Dr. Katz Oral Solution for Dogs and Cats also eliminates chronic bad breath that is disagreeable to pet owners and to the people who want to be friends with your pet. So try out Dr. Katz's TheraBreath Dog and Cat Oral Solution and never feel the urge to run next time your pet opens his mouth.
Even though National Pet Month is over, you can continue celebrating its message of loving and taking the best care of your pet possible by getting your free sample of TheraBreath's Dr. Katz Oral Pet Rinse – just visit Free TheraBreath Sample for Dogs and Cats today. To learn more, visit http://www.therabreath.com.