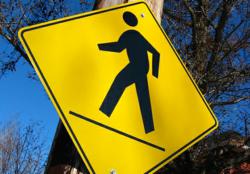 The average commuter could save $12 in just one day by walking to work instead of driving.
EL SEGUNDO, CA (PRWEB) April 04, 2013
Ninety percent of American workers drive or carpool to work, while 5.3% take public transportation, according to data reported by the US Census Bureau. This leaves those who walk to work in the vast minority, at under 5%. National Walk to Work Day 2013, which takes place tomorrow, Friday, April 5, aims to encourage Americans to be more active by walking to work instead of driving.
National finance site GoBankingRates.com, however, finds there are financial benefits to walking as well. In its National Walk to Work Day 2013 report, the site explains how walking to work can help consumers add more money to their savings accounts by eliminating the rising cost of fuel from their budgets.
In fact, the report estimates the average commuter could save $12 in just one day by walking to work instead of driving; those who use public transit could save $5. By making this one-time practice an ongoing habit, commuters could save $240 or more per month in transportation expenses.
Additionally, the report explains how habitual walkers can combat the high cost of poor health. A 2012 study released by the Trust for America's Health and the Robert Wood Johnson Foundation revealed that half of U.S. adults will be obese by 2030 unless they change their lifestyles. Expert GoBankingRates contributor, Stacey Bumpus, explains, "Improved health will mean fewer visits to the doctor's office and emergency room. And, of course, you benefit from fewer out-of-pocket expenses for medication and at-home medical supplies."
View the complete guide to saving money on National Walk to Work Day 2013: http://www.gobankingrates.com/savings-account/saving-money-national-walk-to-work-day-2013/
For questions about this report or to schedule an interview with a GoBankingRates editor, please use the contact information below.
About GoBankingRates
http://www.GoBankingRates.com is a national website dedicated to connecting readers with the best interest rates on financial services nationwide, as well as informative personal finance content, news and tools. GoBankingRates collects interest rate information from more than 4,000 U.S. banks and credit unions, making it the only online rates aggregator with the ability to provide the most comprehensive and authentic local interest rate information.
Contact:
Jaime Catmull, Director of Public Relations
GoBankingRates.com
JaimeC(at)GoBankingRates(dot)com
310.297.9233 x261
###
Sources:
U.S. Census Bureau, Out-of-State and Long Commutes: 2011, February, 2013.
Robert Wood Johnson Foundation, F as in Fat: How Obesity Threatens America's Future 2012, September 18, 2012.
Photo: Peter Blanchard via Flickr Creative Commons