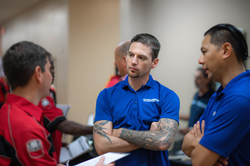 "It is our job to instill the necessary training, and qualities, that employers are looking for in the next generation of aviation maintenance technicians."
CLEARWATER, Fla. (PRWEB) May 22, 2019
Increasing demand for skilled workers continues to drive the need for training programs at schools such as National Aviation Academy (NAA). Quality training is essential to develop the knowledge and hands-on skills required for careers in aviation maintenance.
To connect students and alumni with aviation industry representatives, NAA hosted a career fair on May 9, 2019 at their Tampa Bay campus. Forty-four companies were in attendance scouting students, conducting interviews and making offers. Industry leaders such as Boeing, Delta, Embraer, General Electric (GE), Gulfstream and Lockheed Martin were onsite, among numerous others, making this this the largest career fair in NAA history.
NAA focuses solely on aviation maintenance training to meet the specific needs in aviation and parallel industries. Aircraft mechanics are in high demand as the aerospace industry expands and technicians age out of the aviation workforce. With NAA's 14 or 21-month accelerated training programs, students are able to learn from experienced instructors and prepare for local to global career opportunities.
David Mead, Senior Executive Vice President of Education and Operations, stated, "It is our job to instill the necessary training, and qualities, that employers are looking for in the next generation of aviation maintenance technicians. It is also our duty to ensure that our graduates are equipped with the knowledge to be successful in careers that span all sectors of aviation."
According to Boeing's 2018 Pilot & Technician Outlook, 754,000 new aviation maintenance technicians will be needed by 2037. Given the continued demands in the industry, upcoming careers fairs are anticipated to provide vast opportunity for students and alumni.
NAA's next career fair will be held at NAA's New England campus at 130 Baker Avenue Extension in Concord, MA on Thursday, July 11, 2019. Industry leaders such as United Airlines, Pratt and Whitney, and Panasonic will be in attendance. NAA-Tampa Bay will host their next career fair on Thursday, September 26, 2019.
About NAA'S Tampa Bay Campus:
The current career placement rate at NAA's Tampa Bay campus is 96% as reported to/by the Council on Occupational Education. The median salary for an aircraft maintenance technician is $61,670 according to BLS.gov. Recent graduates from NAA have been hired by companies such as American Airlines, Boeing, Columbia Helicopters, Endeavor, Embraer, Gulfstream, Honeywell, Kittyhawk, Lockheed Martin, Panasonic Avionics, PSA Airlines, Textron and the United States Air Force, among others.
About NAA:
National Aviation Academy (NAA) has provided world-class aviation maintenance training since 1932. Dedicated to building a quality aviation maintenance workforce, NAA offers training in Aviation Maintenance and Advanced Aircraft Systems. A worldwide reputation has been cultivated through the use of innovative curriculum, hands-on training and a forward-thinking sensibility. Students gain industry knowledge and exceptional skills by engaging with faculty who have years of experience across all maintenance sectors. Companies that hire NAA graduates offer long-term and viable careers with great earning and growth potential. NAA trains individuals from across the globe at campuses located in Clearwater, FL and Concord, MA. For more information, call (800) 659-2080 or visit http://naa.edu.