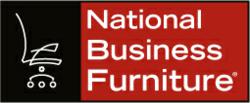 The addition of the CMAS contract to National Business Furniture is a great benefit to all state and local government agencies in California.
Milwaukee, WI (Vocus/PRWEB) February 08, 2011
National Business Furniture (NBF), a K+K America company, has been awarded a California Multiple Award Schedules (CMAS) contract; allowing NBF to provide state and local government agencies in California a vast selection of office furniture at competitive pricing. NBF's CMAS contract (#4-10-71-0097B) will make it much more efficient for government agencies to make their office-furniture purchases by bypassing time-consuming competitive-pricing procedures.
The contract covers thousands of items from NBF's vast selection of office furniture including: office desks, office chairs, reception furniture, file cabinets, bookcases and more. Since the products that fall under the CMAS contract also fall under NBF's GSA contract, it's easy to shop for CMAS-approved office furniture by visiting NBF.com and looking for the "GSA Approved" logo on products.
"The addition of the CMAS contract to National Business Furniture is a great benefit to all state and local government agencies in California," said Jake Feeley, Director of Government Sales for National Business Furniture. "NBF has been the go-to source for government agencies seeking to purchase office furniture. Our new CMAS contract now lets us provide the same purchasing efficiencies and competitiveness to California's local governments that we've been providing the federal government."
By shopping online, customers can see current CMAS/GSA pricing, receive additional discounts on CMAS-approved items, view their past order history and view FOB pricing during checkout. Customers can also create shopping lists which can be emailed to colleagues for approval or to an NBF sales representative for a quote. NBF's team of government specialists are available to help government customers find exactly what they are looking for and assist with any additional services.
In addition to its CMAS contract, NBF also holds a GSA contract (GS-27F-0024V) and a Texas state contract (TXMAS-8-711030). NBF works with several third-party businesses and agencies to meet various socioeconomic set-aside requirements and blanket purchase agreements. NBF also sells GSA approved office furniture through the GSA Advantage! and Department of Defense eMall websites.
About National Business Furniture
National Business Furniture was founded in 1975 as an office furniture catalog for corporate offices, small businesses and government agencies. Since then, NBF has expanded into the school, church and home office markets through three catalog brands, six websites and an experienced sales team.
In 2006, NBF was acquired by K+K America, LLC, the leading group of business-to-business direct marketing companies in North America.
For a free catalog or to browse the complete selection of executive office suites and traditional office furniture such as desks, chairs, file cabinets, bookcases and reception furniture, go to NBF.com. For additional office, school and church furniture, visit any of the NBF family of brands including: OfficeFurniture.com, OfficeChairs.com, Alfax Furniture and Dallas Midwest.
Contact:
Dean Stier
National Business Furniture
414-615-3667
# # #