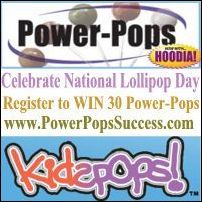 Cincinnati, OH (PRWEB) July 19, 2006
For Ultimate Nutrition (FUN) Unlimited has partnered with a master herbalist, with over 45 years of knowledge concerning herbs and their interactive properties, to create two new revolutionary lollipop products: The Power-Pop, a delicious lollipop patented by the government for its unique weight loss properties that suppresses appetite, provides energy and burns fat naturally; and the KidsPop, a tasty lollipop vitamin whose advanced formulation (patent pending) contains a full array of antioxidants, vitamins and minerals in amounts designed for active, growing children. To introduce the world to the benefits of these unique products, http://www.TastyTreatDiet.com will give away 30 Power-Pops on National Lollipop Day, July 20th. Everyone with a desire to slim down or increase their energy is eligible to receive the free gift.
Power-Pops contain Hoodia, the miracle weight loss ingredient found in a South African cactus. African Bushmen have been using Hoodia to curb their appetite for thousands of years. Unlike diet stimulants like Ephedra and Phenfen that are now banned because of dangerous side effects, Hoodia doesn't stimulate at all. Scientists say it fools the brain by making the person think they are full, even if they've eaten just a morsel. The Power-Pop lollipop delivers Hoodia directly into the blood stream, consistent with the method used by the Tribesman.
The Power-Pop has transformed the lives of thousands of people worldwide. The person-to-person movement to bring this fine weight loss product to the marketplace is helping thousands slim down and have more energy. In addition, one clinical study after another shows that children don't eat the foods that are so critical to their proper development and it can be just as difficult to say "no" when they are craving sweets. Thousands of parents have discovered KidsPop to solve both of these problems -- nutritional benefits cleverly designed as a great tasting lollipop.
There is no requirement to win the Power-Pops giveaway other than taking the initiative to go to http://www.PowerPopsSuccess.com to register for the free drawing. Power-Pops can be ordered directly from http://www.TastyTreatDiet.com. Parents worldwide are discovering their children crave KidsPops which can be conveniently ordered from http://www.LollipopVitamins.com.
If you're interested in an empowering business opportunity that may enable you to embrace your life's dreams, goals and ambitions while helping others along freedom's path, visit http://www.PowerPopsBusiness.com to learn more.
###