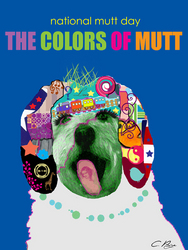 The biggest percentage of dogs euthanized in the shelter each year are mixed breed dogs.
Los Angeles, CA (PRWEB) November 1, 2010
The Animal Miracle Network announced today that National Mutt Day 2010, created by Celebrity Pet Lifestyle Expert, Artist and Designer, Colleen Paige, will be Presented by one of America's leading online resources for animal enthusiasts, Paws4Claws.com.
National Mutt Day is all about embracing, saving and celebrating mixed breed dogs. "There are approximately 5 to 7 million companion animals that enter animal shelters nationwide every year, many of them unwanted and approximately 60 percent of this number is dogs. With only 25 percent being pure bred, that leaves the biggest percentage of dogs euthanized in the shelter each year, mixed breed dogs. "It's a social tragedy that this continues to be a problem due to continued desire for designer and pure bred puppies that are sold by pet stores supplied by puppy mills that overbreed and produce ill and horribly neglected animals," says Colleen Paige, Pet Expert and founder of the day. Paige also adds that legislation needs to be put into effect that makes it illegal for pet stores to sell puppies and kittens and put harsher requirements on breeders to ensure they are not over-breeding their animals. National Mutt Day was created to raise awareness of the plight of mixed breed dogs in shelters around the nation and to educate the public about the sea of mixed breed dogs that desperately await new homes, says Paige.
Paige, who is a proponent of adopting all breeds of dogs, including Pit Bulls, says that mixed breed dogs tend to be healthier, better behaved, and can live longer than their pure breed counterparts and are just as able to perform the duties of pure bred dogs - such as bomb and drug sniffing, search and rescue and guiding the blind.
National Mutt Day 2010's Presenting Sponsor, Paws4Claws.com, is a leading online resource for animal enthusiasts. A 'one-click wonderama' for finding a wide range of information on virtually any topic of interest, giving pet lovers the one 'go-to' site for just about any issue relating to pets or wildlife. Paws4Claws answers a major need petsumers have been looking for according to recent reports in industry trades.
Paws4Claws visitors will be able to search its site for just the right job in the pet industry, learn how to care for a new puppy or kitty, find out how to become a vet technician, locate a shelter, or find a lost pet, learn how to care for an adopted furry friend or even discover what pet-friendly services and events are happening in their town.
Best of all, Paws4Claws gives back. According to Karen Barnett, CEO of paws4claws, "shoppers can be proud of any purchase made in our store because of our devotion to supporting pet rescues and shelters and funding charities that help financially distressed pet loving families. Paws4Claws is recognized for its pet and people philanthropy and efforts to engage community involvement and incentivize volunteerism to increase awareness and raise donations."
Paws4Claws also offers a unique pet lovers' shopping experience and is the premier place to find trendy and hard-to-find wonderful pet-themed fashions, home décor, jewelry and apparel with dog and cat designs, and animal motifs that include bird, horse, fish, and wildlife patterns for the discriminating pet parent and animal enthusiast. The store carries the largest selection of merchandise for every room in the house from top designers and artists with hottest names creating embroidered, carved, engraved, etched, sculpted or painted dog breeds and virtually any popular animal likeness, guaranteed to appeal to even the most particular animal loving friend or pet adoring family member.
Founded in 2004 by Colleen Paige, a noted Celebrity Pet Lifestyle Expert, Animal Advocate and Founder of Animal Miracle Network and national magazines, Pet Home and Style & Bliss, National Mutt Day is just one of twelve lifesaving pet holidays created by Paige and sanctioned by the Animal Miracle Network, which is home to Paige's lifesaving holidays, to help find homes for orphaned animals through public awareness platforms, spay and neuter education and adoption events.
This year's National Mutt Day theme is "The Color of Mutt" Tour, in which limited edition collectible tee shirts and posters depicting original art by Colleen Paige will be available only at Paws4Claws.com for purchase throughout the 2010/2011 year, as well as an associated photo contest with wonderful prizes at NationalMuttDay.com
For the best selection and undeniable quality of pet related holiday gifts in every category imaginable, Paws4Claws.com is every pet lover's one stop resource for online holiday shopping.
The Animal Miracle Network's tenet is to improve the lives of animals through public awareness campaigns such as Colleen Paige's highly popular pet holidays, which promote to a global media platform via the web, publishing, TV and radio. For more information or to become a sponsor of any of AMN's upcoming pet holidays for 2011, please visit http://www.animalmiraclenetwork.com
Contact:
Maggie MacFadyen
Animal Miracle Network
310-770-7714
# # #