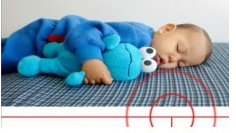 Simply put, our mission is to supply top quality and effective EMF Protection products which create a "Protective Umbrella" that minimizes risk factors and conditions created by electrosmog & EMF Radiation.
(PRWEB) May 01, 2013
Over the weekend, the campaign for National Kids Safe Week has launched. One of often neglected health issues is exposure to EMF radiation among children.
Children's foundations and healthcare organizations like Kaiser Permanente are leading this campaign towards promoting a safer environment for children. AdrProVita, a company dedicated to protecting people's health and exposure from Electromagnetic Fields (EMF) is a big supporter of National Kids Safe Week. AdrProVita, with its company's motto "World Without Electrosmog", takes part in the important campaign of promoting children's safety and EMF protection in particular to the hazardous sources in their homes.
A lot of people are not aware that their homes are heavily surrounded with Electromagnetic radiation that is harmful to their health. Nearly all appliances and electronics at home, from refrigerator, oven, television to computer, post lamp, electric wires and fans emit radiation. These appliances and electronics produce the EMF's on a consistent basis, even if they are turned off. Their radiation seeps underneath your floor, bedding and carpet and are found in your living room, dining area, bedroom, bathroom and all other areas of the house.
As a way to secure children's health and safety, AdrProVita provides products that help prevent children from exposure to EMF radiation at home. AdrProVita specializes in products like ADR mats & pats for bed, carpet, computer and other surfaces where EMF exists, which gives your children protection against radiation. With ADR Mat for children, there is assurance that even though children are laying on the carpet, sleeping on the bed, or playing on the computer, they have one hundred percent protection from EMF.
AdrProVita also supplies some preventive measures for homes with EMF Detector and Analyzer that will tell you the presence and amount of EMF on certain parts of the house. This device will give a heads up on what parts of the house need EMF protection and will warn about the danger zones for children when they are at home. In this National Kids Safe Week, AdrProvita focuses on the children's safety in their homes, particularly to health hazards like EMF's that are not always visible but very dangerous.
AdrProVita provides a variety of proven personal and commercial products for EMF Protection, EMF Shielding, Cell Phone Radiation Protection and wellness products. Our products are designed to protect and shield the human body from a number of EMF radiation sources typically found throughout apartments, homes, offices and commercial facilities.
Visit http://www.adrprovita.com to learn more about EMF protection and cell phone radiation protection for children and adults. Receive 20% OFF ADR-Mat for Bed for Children and other attractive discounts during National Kids Safe Week.