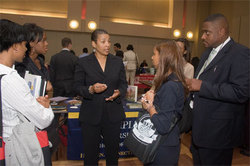 Encouraging Excellence, Strategic Thinking, and a Competitive Mindset Among African American Law School Aspirants.
Houston, Texas (PRWEB) October 15, 2007
The Third Annual National Black Pre-Law Admissions & Preparation Conference and Law Fair 2007 will be held on Friday, November 2, 2007 at the University of Houston in the University Center in Houston, Texas. This is the only comprehensive national pre-law conference of its kind in the United States geared specifically toward the success of African Americans interested in law school. After two previous successful and impactful years, it continues for its third year. The event is being sponsored in part by Mayer Brown LLP, Thompson & Knight LLP, Baker Botts LLP, Phoenix School of Law and the University of Houston Black Law Students Association.
The ongoing conference theme is "Encouraging Excellence, Strategic Thinking, and a Competitive Mindset Among African American Law School Aspirants." It was created as a proactive response to address the less than positive statistics relating to the number of African Americans getting into law school and becoming attorneys. Blacks make up only less than 7 percent of law students and less than 4 percent of all attorneys nationwide. Among the conference's many goals, it was designed to increase the chances of admission of prospective Black law students by emphasizing the importance of early strategic planning, understanding the highly competitive nature of the law school admissions process, and stressing the significance of academic preparedness and standing out from tough competition. Another component of this conference is to inform future law students about the academic rigors, demands and expectations of professional legal education, and to impart strategies to help them prepare for the challenging law school experience prior to actually beginning their law school careers. Additionally, it exposes law school aspirants to actual Black law students and attorneys who will share their real-life experiences and serve as role models and potential mentors. Furthermore, it gives participants the opportunity to fellowship and network with others with similar higher education goals and professional aspirations in order to create positive support systems and accountability partnerships with achievement-oriented peers.
Almost 100 community-minded law school administrative professionals, law students, law professors, judges, and attorneys from all over the nation will be featured in nearly 40 different sessions focusing on a number of areas, including the law school admissions process, the Law School Admission Test (LSAT), personal and diversity statements, financing a legal education, summer preparation and academic support programs, the law school experience, law school academic success, the bar exam, career options, life as a lawyer and the job search. There will be also be a Law School Recruitment Fair where pre-law students will have the opportunity to talk to law school representatives from over 100 law schools at all tier levels from across the country. These schools' presence at the fair and desire to share what their schools have to offer demonstrates their interest in increasing diversity and particularly African American representation at their schools and in the legal profession.
In the late afternoon, interested participants can sign up to take part in the conference's signature interactive event -- The Law School Admissions and Preparation Help Advice Clinic™, where law students, pre-law advisers and attorneys will talk one-on-one with law school hopefuls about their personal admissions credentials, and answer any individual questions they might have about getting into law school, choosing a law school and preparing for the law school experience.
A brief morning pre-conference pep talk/motivational session will be given to explain to participants exactly what they should do to maximize their experience throughout the conference day. The conference will officially kick off with a powerful opening keynote address given by Attorney Reginald T. Shuford, Senior Staff Counsel for the American Civil Liberties Union Foundation's Racial Justice Program, and ACLU Attorneys of Color Recruitment and Retention Officer. There will also be a dynamic closing keynote speech from Attorney Evett L. Simmons, Partner and Chief Diversity Officer of the Ruden McClosky law firm, and Chairperson of the American Bar Association's Presidential Advisory Council on Diversity in the Profession.
After all sessions have ended, there will be a professional networking social/mentorship mixer where participants will be actively encouraged to practice their networking skills and mingle with fellow aspiring lawyers, law school administrators, law students and attorneys, and will have the chance to try to find potential mentors and contacts in a friendly and festive environment. During this time, special recognition will be given in a "Celebration of Black Lawyers" to all Black attorneys in attendance who will be applauded. Each attorney will be asked to plant a seed of confidence in our aspiring Black lawyers by committing to mentor at least one in attendance. All pre-law attendees will be given free memberships to the Aspiring Black Lawyers Association. Furthermore, a special feature documentary film will be screened prior to and after the networking social called "The Trials of Law School" followed by a Q&A session with the filmmaker and attorney Porter Heath Morgan.
This full, information-packed and exciting day will end with a conference after party. This party is planned and sponsored collectively by the Black Law Students Associations from all Houston area law schools including the University of Houston Law Center, Thurgood Marshall School of Law -- Texas Southern University, and South Texas College of Law. The Black Law Students Associations have also organized a community service project that conference participants can choose to take part in on the following day.
Make plans now to come out and be inspired, informed, and empowered to pursue your dream of becoming a lawyer. This groundbreaking "must attend" event is completely free of charge and open to the public. High school students, college students, college graduates, working professionals, career changers, advisers, supporters and parents who want to encourage and guide their children who are interested in law school are all encouraged to come out and take part in what this conference has to offer. This is truly an unprecedented opportunity. Don't miss out. A complimentary continental breakfast will be served, as well as the chance to win prizes and giveaways, including pre-law, law school, and bar exam success guides. Free appetizers and drinks will also be provided during the professional networking social. Events like this one don't come along every day. Sign up while spaces are still available.
Everyone is welcome. However, due to space and seating limitations, pre-registration online, by phone, mail or via fax or e-mail is required. Walk-in registrants will not be turned away, but there is no guarantee that there will be room available for them to attend the sessions of their choice. Further information on registration and updates regarding the conference schedule and featured speakers can be found at the official conference website at http://www.BlackPreLawConference.com. You may also call 281-247-4026 or send an e-mail message.
# # #