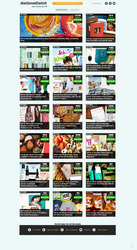 "Show me anywhere else where you can open your web browser and get a $20 gift card at Amazon for $10. Consumers are naturally going crazy for this. -Maziar Sadri Founder NationalCatch
San Jose, CA (PRWEB) April 28, 2011
Consumers Take Notice: While the press is buzzing about a quick cash grab by Facebook for a "deals" products that is apparently not ready for prime time, a quiet storm has been brewing just up the road at NationalCatch Headquarters that looks to have already set the industry standard for the "late arrivals"
The idea which NationalCatch pioneered is to "cut out the noise" from the deals marketplace and give the consumer a single one stop shop for all of their Daily Deal shopping and exploration. Instead of having to subscribe to dozens of email lists and sort through many sites for pertinent deals, NationalCatch provides a single, easy, and fun interface for the consumer that provides exactly:
-All the Geo Targeted deals for the viewing consumers' locale, from the major Daily Deal Providers and many small gems. (So for instance, a user in San Francisco can see all the relevant deals for them across dozens of networks in one place just by visiting nationalcatch.com.)
-All the National Deals from across the country, presented in a single interface. (So for instance when Amazon offers a deal of a $20 gift card for $10 in Miami, but redeemable from anywhere, users in Boise will see and be able see and "catch" this deal.)
Furthermore in akin to its name, NationalCatch is the industry pioneer in the concept of "National Deals." Currently the "group buying" craze is primarily centered on providers that present deep discounts in large urban population centers. This however has proven to be quite a labor intensive model and has left the majority market segment yet to be claimed.
In a recent interview, NationalCatch founder, Maziar Sadri stated: "The current daily deal sites have the correct base concept, but are missing the wide picture. Over 70% of Americans live in suburbs and rural areas. These consumers perform the majority of their spending in businesses close to their home & online. In fact, the average American spends more than double the amount in chains & locally owned franchise store than with independent retailers annually.
Mr. Sadri goes on to say "In the 2010 Holiday season, American Consumers executed just under 30 Billion dollars in online transactions. By focusing on deals from National brands, online and on the ground, we can provide the majority of Americans with the deals they really want, while helping local franchises grow with their community."
NationalCatch based out of Mountain View California and is backed by private funding. The Founder is Maziar Sadri and you can view the Website in action at http://www.nationalcatch.com. But careful, you just may catch a deal in the meantime.
# # #