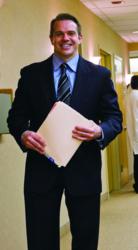 It is their phenomenal, unwavering strength and endurance that keep me motivated in matching them in their fight to overcome
New York, NY (PRWEB) August 15, 2012
"As we approach September, National Childhood Cancer Month, it is not only a time to bring awareness to childhood cancer but to also mark the progress and positive outcomes experienced by many," notes Dr. James C. Wittig, renowned Orthopedic Oncologist and Sarcoma Surgeon, "In a recent article that came across my desk, I paused and reflected on the care given to one of my young patients who had an aggressive bone tumor years ago. I was both honored and flattered to be called a 'hero' in an essay that was written by Samantha McCauley that earned her the "Robert Curatolo Scholarship Fund" award. If only Samantha and all children afflicted with such aggressive bone and soft tissue tumors realized: they are the true heroes!! These tumors are quite the obstacles for anyone, let alone children. It is their phenomenal, unwavering strength and endurance that keep me motivated in matching them in their fight to overcome."
National Childhood Cancer Month is a great opportunity to remember and pay tribute to all those involved in the overall care provided to young cancer patients – from within the home to the many sub-specialties and healthcare teams involved in care. It is remarkable to hear from patients along their journeys. "As doctors and surgeons, we focus on the mission to heal, first and foremost. Often, once the care is given, we assume that normalcy has returned and that the old adage "no news is good news" rings true. When we are able to catch a moment and read about stories of people overcoming cancer and moving forward, it is truly tremendous. It is a privilege and honor that parents invest their trust in me to care for and operate on their children who are afflicted with aggressive bone and soft tissue tumors." Please feel free to read the inspirational story at http://www.tumorsurgery.org/news.
Dr. Wittig supports the work of the CureSearch National Childhood Cancer Foundation and the Children's Oncology Group (COG), the world's largest cooperative cancer research organization, that treats approximately 90% of all children with cancer, at more than 200 children's and university hospitals and Cancer Centers in the U.S.
About Dr. Wittig
James C. Wittig, MD, Author, Professor & Lecturer, specializes in limb-sparing surgery; pediatric and adult bone and soft tissue sarcomas; benign musculoskeletal tumors; metastatic cancers as well as complex hip and knee replacement surgery. He also has special expertise with regard to tumors that affect the shoulder girdle and scapula. Currently, Dr. Wittig is Associate Professor of Orthopedic Surgery, Chief of Pediatric and Adult Orthopedic Oncology and the Sarcoma Program at Mount Sinai Medical Center in New York City. Office within the Faculty Practice Suites, 5 East 98th Street, 9th Floor. as well as Chief, Orthopedic Oncology and Director, Sarcoma Section of the John Theurer Cancer Center, Hackensack University Medical Center. Hackensack office located at Continental Plaza, 433 Hackensack Avenue, 2nd Floor, Hackensack, New Jersey. He is a member of the American Academy of Orthopaedic Surgeons; New York State Society of Orthopaedic Surgeons, Inc.; and the Medical Society of New Jersey. He has published over 90 educational materials ranging from original reports, abstracts, videos and articles in the following publications: Clinical Orthopedics and Related Research, The Journal of the American College of Surgeons, American Family Physician, Journal of Arthroplasty, Radiology and Journal of Bone and Joint Surgery. He is also a prominent lecturer in the field of Orthopaedic Surgery throughout the nation. To schedule a consultation or speaking engagement, contact Dr. Wittig via his office in NYC at 212-241-1807, by email DrJamesWittig@gmail.com or visit http://www.TumorSurgery.org.