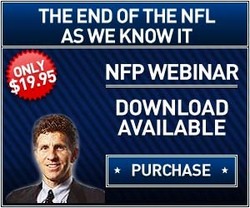 The End of the NFL as We Know It: A Look at the Uncapped Year.
La Jolla, CA (Vocus) February 23, 2010
On Feb. 17, the National Football Post launched its first Webinar, "The End of the NFL as We Know It: A Look at the Uncapped Year." NFP president Andrew Brandt addressed a multitude of issues facing the NFL in the uncertain labor situation and allowed participants access to key data in the debate. With a successful first run, the NFP announces a schedule of events as it enters an exciting new area designed to educate its fan base.
In the coming months, we'll launch a series of Webinars to teach readers about the business side of football from a variety of angles. With decades of experience in NFL front offices and on the player representation side, the NFP will educate, inform and entertain students about how to enter the business and give insight to its inner workings. Look for Webinars to come, including "Front Office 101," "How to Become an Agent," "How to be a Better Negotiator," "Football Contracts Inside and Out" and more.
"Since we launched our site in August 2008, we've been inundated with questions about every aspect of working with NFL teams, representing players, contract nuances, salary cap issues and more," Brandt said. "It's certainly time we started addressing these questions in a setting that is easily accessible by all participants and allows for complete interactivity with our experienced staff."
Stay tuned to the National Football Post for an announcement about our next Webinar. Meanwhile, "The End of the NFL as We Know It" is still available for purchase on the site at http://nationalfootballpost.com/front-office-presale.html.
About the National Football Post (NFP)
National Football Post (http://www.nationalfootballpost.com) is the new online source for in-depth news, analysis and insider opinion on professional football. Unique for its access and insight into the innermost workings of football, the National Football Post features the voices of NFL executives, top player representatives and former players. The site also features guest writers and voices from people inside the world of professional football.
###