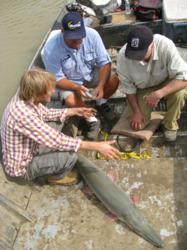 The fish can be anywhere in this area and we'll be able to track it…we're hoping that this sort of technology will help us understand the gar better so that they can survive
Seattle, WA (PRWEB) May 05, 2011
Adventure angler, conservationist, and National Geographic Channel host Jakub Vâgner and his team set out in the wilds of the Trinity River to track an elusive Texas Titan, the alligator gar. In an effort to better understand and advance vital species research, the team put the latest high-tech fisheries research equipment from HTI to work to detect and monitor the gar's behavior and movement in the wild.
The beautiful, prehistoric gar are one of the biggest freshwater fish in the United States. Its muscular body looks like a long torpedo-shaped fish and its head has an elongated snout similar to that of an alligator. With a dual row of large, sharp, pointed teeth, it can quickly immobilize prey making it a highly effective predator weighing up to 300 lbs. As one of the world's last remaining dinosaurs, their anatomy hasn't changed much since prehistoric times. Their ancestors used to roam many parts of the world, but today they can only be found in North America, e.g. Texas. The Trinity River offers a perfect habitat for the gar to hide and hunt with its deep murky waters that wind over 700 miles from northern Texas into the Gulf of Mexico. The Trinity has also become a popular place for sports fishermen. Local wildlife officials are concerned about the fish's ability to survive and grow. They are now protected by state law, limiting catches to one gar per day. However, it is still uncertain if this limit will protect the largest fish.
To help understand more about the secret lives of the gar, Jakub and his team investigated their behavior using the latest in high-tech acoustic tag telemetry. After Jakub hooked and lassoed the large fish into the boat "Texas-style," Senior Fisheries Scientist Sam Johnston from HTI used a long tube to place a small, Model 795G Acoustic Tag into the gar's stomach. "This is the first time we've ever done alligator gar in the wild…the fish can be anywhere in this area and we'll be able to track it…we're hoping that this sort of technology will help us understand the gar better so that they can survive," Sam explained.
In a matter of minutes, the gar was put back into the river and tracked with the use of acoustic telemetry. The team then watched its behavior in real-time as the gar made its way around the cloudy freshwater river. Employing software developed by HTI, they were able to watch the gar travel along a geo-referenced map on their laptop screen.
"I think that tagging research is really important especially for future generation of alligator gar and as well for fishermen, because we can learn a lot of things from biologists about fishing," explained Jakub. To watch the episode of alligator gar being tracked in the Trinity, check your local listings for National Geographic Channel's Fish Warrior: Texas Titans. To find out more about the latest acoustic tag technology used in this episode, visit HTIsonar.com.
# # #