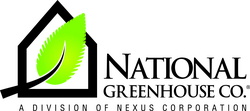 Our new, vibrant website is a valuable resource for gathering hobby greenhouse information and purchasing products. It has exceeded our expectations both in capturing National's visual identity and assisting customers in their purchasing decisions.
Denver, CO (Vocus) February 11, 2010
National Greenhouse is pleased to announce that they have performed a major overhaul of their home greenhouse website, where consumers can find information on hobby greenhouse kits and home greenhouses. National Greenhouse Co. has partnered with NetGain SEO to enhance their websites overall user experience. The new site will feature the latest in graphic and web design, be fully search engine optimized and showcases an informational blog. Also, the website will include a fully integrated e-commerce store where the 9' x 12' Cultivator Premier Greenhouse Kit can be purchased online.
National Greenhouse Co. is a division of Nexus Corporation, a leading manufacturer of greenhouses for over 79 years. The company's new website provides a fresh, modern visual identity with a traditional undertone. The design was created to guide the user in a way that would allow for an enjoyable experience while ensuring that information about their hobby greenhouse is readily accessible.
The site also features an informational blog where customers can gain a wealth of knowledge about National Greenhouse Co. home greenhouses and greenhouse gardening from industry experts. The goal was to create a valuable resource for customers where knowledge can be exchanged comfortably, so that customers can fully enjoy their greenhouse experience.
According to Andrew Gillespie, Residential Products Manager of Nexus Corporation, "Our new, vibrant website is a valuable resource for gathering hobby greenhouse information and purchasing products. It has exceeded our expectations both in capturing National's visual identity and assisting customers in their purchasing decisions."
For information: http://www.nationalgreenhouse.com
Contact: andrewg (at) nexuscorp (dot) com
t. (800) 303-1543 ext.533
###