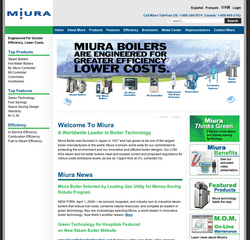 These Miura boilers are amazing
New York (PRWEB) April 2, 2009
As schools, hospitals, and industry turn to industrial steam boilers that reduce fuel costs, conserve natural resources, and compete as leaders in green technology; they are increasingly selecting Miura, a world leader in innovative boiler technology. Now there's another reason.
Miura Boiler has recently achieved the efficiency standard necessary for National Grid's Gas Efficiency program. The leading Northeast gas utility offers money-saving incentives based on boiler size and the Annual Fuel Utilization Efficiency (AFUE) of the system. With a tested AFUE of 86%, Miura gas-fired steam boilers may qualify for National Grid energy efficiency incentives, and potential savings of tens of thousands of dollars per year. Savings will depend on usage and existing equipment and operation.
Henry Kao, Chief Engineer at Hot Cuisine America Inc., the Swedesboro NJ-based division of the $3.5 billion Belgian Univeg Group of Companies, uses two Miura LX 200 gas steam boilers in their 16,000 sq. ft. state-of-the-art fresh-prepared meal facility that produces high-quality fresh-prepared meals and meal components for retail stores and food services.
The performance of the Miura boilers that drive machinery, heat the building, and generate the hot water supply for sanitation and facilities is impressive.
"These Miura boilers are amazing," Kao reports. "They reach operating high pressure in less than seven minutes, and are highly efficient in terms of gas and water consumption. I estimate that there's as much as a ten-to-one savings with these boilers. They save space as well, because of their compact design." Also praised by Kao was the state-of-the-art monitoring system by Miura. "No matter where you are, you can examine what the boiler is doing via the Internet."
As the cost and supply of gas remains a concern, and companies explore new ways of going green, Miura Boiler continues to enjoy record breaking sales in North America. With their 'five minutes to steam' (from a cold start) technology, larger users can buy multiple units, meet peak demands, provide 100% redundancy when needed, and shut down during lower demand cycles.
"We've had Miura boilers for about three years," explains Shannon Clifton, Engineering Supervisor at Duke Raleigh Hospital. "Our first two paid for themselves in about a year on fuel savings alone." The hospital recently installed a third Miura boiler which provides power for sterilization and hot water needs. Clifton has reported thousands of dollars in savings each month from using the Miura boilers.
About Miura Boiler: Miura Boiler was founded in 1927 and has grown to be one of the largest industrial steam boiler manufacturers in the world. In 2006, Miura sold more boilers in North America than ever before in its history. For more information on Miura boilers, please call in the USA 1-888-309-5574. In Canada, 1-800-666-2182. Visit Miura online at http://www.miuraboiler.com.
# # #