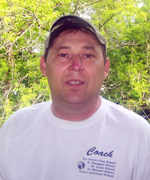 Kansas City, Mo. (PRWEB) December 13, 2011
On Tuesday, December 13th, the National Guard will celebrate its 375th birthday. Established in 1636, the National Guard predates the United States Navy, Army and Marines Corps by 139 years, and is older than the Declaration of Independence and the United States Constitution. Grantham University, a 60-year-old institution delivering accredited online degrees to working adult students around the world, celebrates the history of the National Guard, and the dedicated men and women who serve.
In 2007, Grantham University partnered with GX magazine to award one full scholarship to a member of the National Guard in each U.S. state and territory. David Soucy, a member of the Massachusetts Army National Guard, was one of the recipients. In 2010, despite a series of personal tragedies, Soucy completed his associate degree in Criminal Justice – and is now just 11 courses away from earning his bachelor's degree.
"My life was a roller coaster ride," said Soucy. "My mother and sister both passed away, and I was fighting diabetes, COPD, asthma, kidney cancer and other medical issues. Grantham has always been there to help guide me and keep me motivated toward completing my educational goals. I look forward to graduating in 2012 and making a great impact on my family and community."
"For more than 60 years, the University has been committed to supporting our nation's service members, veterans and their families," said Joseph McGrath, university president. "Stories such as David's are just one example of why Grantham University is proud to offer a flexible education with support and a variety of resources – and why we celebrate the birthday of the National Guard."
Grantham's mission is to provide accessible, affordable, professionally relevant degree programs in a continuously changing global society. At the heart of that mission is Grantham's continued commitment to meeting the educational needs of our nation's military service members and veterans. For the past 60 years, the University has remained true to its founder's pledge to serve the academic needs of those who serve our country through military scholarships, an interactive online learning environment, and a solid student support structure.
For more information about Grantham University and its degree programs, visit: http://www.grantham.edu or call 800-955-2527.
About Grantham University:
Established in 1951, Grantham University specializes in online education for the working adult student. Grantham's online undergraduate and graduate degree programs include: Accounting, Business Administration, Criminal Justice, Computer Science, Engineering Technology, Health Sciences, Information Technology, Medical Coding and Billing, Nursing, Human Resource Management and Business Intelligence. Accredited since 1961 by the Accrediting Commission of the Distance Education and Training Council, Grantham University has compiled a distinguished record as a respected and accredited distance learning university spanning six decades of service to education.
###