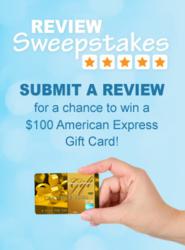 Online product reviews influence a person's buying decision.
Fulton, MD (PRWEB) May 09, 2013
For the third time ever, Just Health Shops, a company of 15 online medical supplies stores, including National Incontinence, is running a Review Sweepstakes during the month of May. One lucky visitor who leaves a product review will receive a $100 American Express gift card.
"Online product reviews influence a person's buying decision. Consumers trust other consumers more than what a company says," said Renee Mercer, president of National Incontinence. "Our goal is to find out which products are favorable and which aren't. This Review Sweepstakes helps us determine that."
To enter the giveaway, entrants must write a constructive review – positive or negative – about any product on one of Just Health Shop's websites, including NationalIncontinence.com, JustHomeMedical.com, ProtectiveBedding.com, and BedwettingStore.com. Visitors can write up to five reviews for a total of five entries. The products do not have to be bought specifically from one of Just Health Shop's stores. Open only to U.S residents, the sweepstakes ends May 31. The winner will be notified by mail.
"One of our most popular products, the Vinyl Pants, has 48 reviews, while many others, like the Akord Adult Diaper Disposal System, don't have any. Hopefully, a little incentive will change that," Mercer said.
About NationalIncontinence.com
National Incontinence provides products throughout the United States for people of all ages with bladder control problems. They have helped more than 100,000 patients with bladder issues. Their pediatric division, the Bedwetting Store, is now the largest distributor of pediatric enuresis products in the United States. National Incontinence is proud to serve the millions of families who seek information and practical solutions to bladder control problems and want the best products at the lowest prices.