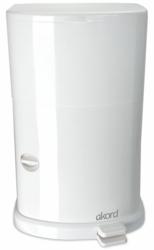 Don't forget to make sure that your loved one is stocked up on incontinence supplies.
Fulton, Md. (PRWEB) April 04, 2013
Spring is finally here and in addition to warmer weather and blooming flowers, this means spring cleaning. To help caregivers help their loved ones transition into the new season, National Incontinence, a major supplier of incontinence products, has released a new tips sheet, "Top Caregiver Tips for Spring Cleaning."
"Caregivers want to make sure their loved one's living environment is safe and comfortable. We hope that these spring cleaning tips will help make a caregiver's responsibilities easier," said Renee Mercer, nurse practitioner and president of National Incontinence.
The tips sheet includes advice on removing urine stains from mattress with enzyme-based products. A waterproof mattress cover or washable underpad can help protect the mattress and furniture from future stains and odors. Another way to clear the air from urine odors is to invest in an adult diaper pail.
Mercer also suggests reducing clutter. By getting rid of unwanted and unnecessary newspapers, boxes, and appliances, caregivers can help prevent their loved one from tripping and falling.
"Don't forget to make sure that your loved one is stocked up on incontinence supplies. We offer an abundance of adult diapers, incontinence pads, and skin products to help your loved one stay protected," Mercer said.
About NationalIncontinence.com
National Incontinence provides products throughout the United States for people of all ages with bladder control problems. They have helped more than 100,000 patients with bladder issues. Their pediatric division, the Bedwetting Store, is now the largest distributor of pediatric enuresis products in the United States. National Incontinence is proud to serve the millions of families who seek information and practical solutions to bladder control problems and want the best products at the lowest prices.