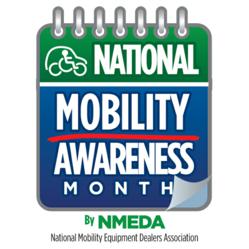 Phoenix, AZ (PRWEB) April 10, 2012
Arizona Mobility Products has today announced May is National Mobility Awareness Month. Arizona Mobility Products will be joining National Mobility Equipment Dealers Association (NMEDA) to help promote awareness of individuals with physical disabilities, educate the general public, and teach those with mobility needs about their options in handicap accessible vehicles and adaptive equipment for regaining their freedom and independence by giving away three brand new wheelchair accessible vans.
Arizona Mobility Products and NMEDA want everyone to share stories of local heroes – individuals who have overcome adversity and disability. Everyone is encouraged to share their stories, from individuals with physical disabilities to veterans and caregivers. Those submitting stories have two format options. They can submit a text story of up to 400 words, or they can submit a video clip of two to three minutes.
Once submitted, stories can be voted on by friends, family and community members. Individuals can vote for a story once every 24 hours. However, Arizona Mobility Products urges voters to use code 1035 to gain an additional 5 bonus votes. The code can be used once a day per person. Voting began on April 1, and runs through May 13.
At the end of the month, three winning stories will be chosen based on the number of votes each received. The winners will be presented with a new wheelchair accessible van on live national television on a show such as Good Morning America, The Today Show or Ellen.
Arizona Mobility Products encourages everyone to send in their stories of heroism and overcoming challenges. Every hero should have their story told and Arizona Mobility Products is committed to helping promote awareness of inspiring individuals.
To find out more about entering the National Mobility Awareness Month giveaway, visit http://www.AMPVans.com or http://www.MobilityAwarenessMonth.com.
About Arizona Mobility Products: Arizona Mobility Products is dedicated to bringing industry-best equipment and mobility solutions to their customers. With the widest range of vans and equipment on the market, they also offer parts and service, as well as expert advice for those with physical disabilities.