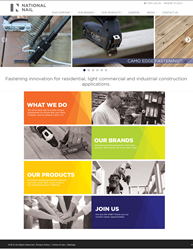 We are a growing company and wanted to convey that our greatest asset is our employee-owners, that we value our customers and offer game changing innovative brands.-- Chip Manger, VP, Business Development
Grand Rapids, MI (PRWEB) October 04, 2016
National Nail has launched a new website (http://www.nationalnail.com) to highlight its diverse assortment of fasteners, with very unique applications and solutions for general construction, decking and roofing. The site features easy navigation with scroll over or menu options, coherent product organization and it is mobile-friendly for contractors constantly on the go.
"We wanted to give visitors insights into National Nail as a company and an innovator," said Chip Manger, VP, Business Development. "We are a growing company and wanted to convey that our greatest asset is our employee-owners, that we value our customers and offer game changing innovative brands."
National Nail's brands CAMO®, STINGER® and PRO-FIT® take center stage on the site, with easy navigation of each brands' game-changing selection of products and solutions.  PRO-FIT is long recognized as having fasteners that fit any construction job—including a complete line of collated, packaged, and bulk nails and screws for residential and light commercial construction.
CAMO Edge Fastening, which offers the ease of fastening virtually any deck material on the edge with propriety screws, drill bits and hand-held guides have changed the face of decking, according to Manger, with an easy alternative to face-fastening deck boards. "It provides a much faster deck installation and a beautiful fastener-free surface," he said. The National Nail website can take visitors directly to the CAMO Edge Fastening microsite at http://www.camofasteners.com which has been enhanced with new images and installation tips.
STINGER is the innovative roofing cap system that includes cap fasteners and tools to secure them, STINGER coil roofing, EG or HDG bulk hand drive nails and new EXO synthetic underlayment. The STINGER microsite at http://www.StingerWorld.com can also be accessed directly from the new site.
In addition, the site signals the growth of National Nail, with several opportunities to join the National Nail team. "We want to provide a solid understanding of the National Nail family and make it easy for future employee/owners to begin their career path with us," said Manger. "Anyone interested in joining National Nail can go to http://www.nationalnail.com and click on Join Us on the home page.
About National Nail
National Nail Corp., headquartered in Grand Rapids, Mich., is an employee-owned manufacturer and distributor of high quality, innovative building products and service solutions for the residential and commercial construction industries. National Nail brands include PRO-FIT® Fasteners, CAMO® Edge Deck Fastening, and STINGER® Cap Systems. Visit http://www.nationalnail.com.