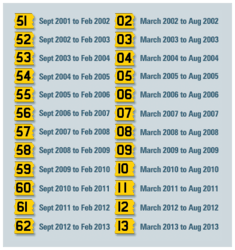 there are no plans to offer an alternative
BILLINGHAM, CLEVELAND (PRWEB UK) 12 September 2012
National Numbers Ltd, the UK's foremost private number plate dealer, has learned that despite rumours to the contrary, the DVLA (Driver and Vehicle Licensing Agency) plan on releasing their upcoming 13 series without the option to 'skip'.
The 13 series will consist of registration plates using the age identifier of '13', a number that some consider unlucky. It has previously been reported that the DVLA would allow superstitious drivers to opt-out of the 13 series in favour of an older '62' series registration.
"We have no plans to move away from the 13 series," said a DVLA Spokesperson. "If a motorist did not want a 13 plate on their car they could purchase an alternative number to display, but there are no plans to offer an alternative plate as a matter of course."
'Current Style' DVLA number plates were established in 2001. They contain two letters, a two-number age identifier and three additional letters (e.g. XX13 XXX). Age identifiers change every six months to keep up with the number of new vehicles registered in the UK. The '13' series will be followed by the 63 series in September 2013.
"We work closely with the DVLA so I figured it wouldn't have been the case," says Eric Craggs, director of National Numbers.
"Drivers need to be careful where they get their information. Don't trust unreliable or general sources. It is best to speak to the DVLA or a reputable number plate authority like National Numbers if you are unclear on any display laws."
When creating personalised number plates the number '13' can represent 'B', 'LE' or 'LB' which can then be utilised to spell names like Robert (RO13 ERT), Shields (SH13 LDS) and Colbert (CO13 ERT). Even if some will think of them as unlucky it is predicted that there will be plenty of interest come release day.
The AA previously reported that a third of drivers registered to them would think twice about buying a 13-reg car, though they speculate that the main problem may be on reselling the vehicle later on.
Those looking to purchase a new car between March and September next year would be able to buy a private plate ahead of time. These can be kept on a retention certificate for 12 months and can be registered to the vehicle upon purchase.
It is illegal to misrepresent a vehicle's age by making it appear newer, but you would be able to use an older registration. For a 13-reg car you can use anything from '62' or before.
National Numbers are one of the UK's most respected private number plate dealers and have been buying and selling personalised registrations for over 30 years. They work closely with the DVLA and other organisations to provide up-to-date news and information to the general public.