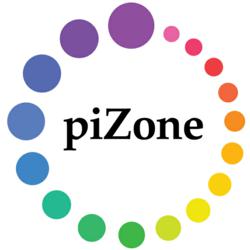 Ask yourself -What can I do to support STEM education?
San Francisco, CA (PRWEB) March 13, 2013
March 14 (3.14) is National Pi Day.
Why Pi? What is National Pi Day?
Beloved worldwide, pi is simply the irrational number π = 3.14… It is used to
calculate the circumference of a circle – any circle – among a multitude of other applications in math, physics, and engineering.
In 2009, the United States House of Representatives declared March 14 (3.14) to be
National Pi Day. They passed resolution HR 224 to celebrate the importance of math,
science, and education in our lives.
No longer reserved only for the geek culture, pi is fun, approachable, and entertaining. Learning the first 10 digits is, well, as easy as pi (3.141592653).
As an example, the letter count of each word below corresponds numerically to the first 10 digits in pi.
Wow I made a short memorable pi string, could you?
3 1 4 1 5 9 2 6 5 3
The team at piZone.org works to remind us that math and science are present in all of our everyday lives. All technology, from the wheel to the Smart Phone to GPS, utilizes physical laws that are described in terms of mathematics.
Through videos, online games, activities, demos, and events, piZone engages students, educators, and the public in the fun and importance of action learning as a means to inspire the next generation of scientists, researchers, doctors, educators, and techies who will spur new life-impacting innovation.
Beyond being just a number, pi can also be an expression of art, dance, music, and writing. When learning is informative, entertaining, and sensory, it encodes more efficiently and effectively into the participant's brain. When learning is fun and engaging, it sparks curiosity and a desire to discover, explore, and question. The ability to think critically is essential to people living in our high-tech world.
pi activities and events:
The New San Francisco Exploratorium - soon to open in April 2013, the new Exploritorium provides students and the public with hands-on science fun that inspires and engages. This Pi Day look up! Pi in the Sky – an artistic skywriting event - will occur on Pi Day above the new Exploritorium building. Pi in the Sky, created by conceptual artist ISHKY, is a visual representation of pi - 100 digits of pi written in dot-matrix numbers by 5 airplanes in formation over the San Francisco Bay.
SXSW Music Festival and Conference - The pizone.org team recently spoke at the educational arm of the South by Southwest Festival and Conference in Texas. To pass on the pi - pizone plans to inspire thought and engagement at the SXSW music festival with different pi sayings on 9 colored stickers, distributed to only 10% of the crowd, sparking curiosity in participants to seek out others to see what their stickers say. They are encouraged to share their fun via posts, tweets, images, and videos.
Bill Gates' Big History Project - This project inspires our big picture thinking.
pizone.org provides students and educators with fun math and science demos, games, and videos to inspire and engage on topics of math and science via pi (pie) recipes, an interactive sticker game, a contest, and songs such as the ABCs of Pi Song: a 6 year old sings 42 places in pi to the tune of the ABCs. It's a sing-along.
All of these activities culminate in the question, "What can I do to support STEM education?" It starts with building awareness among the general public about the vital importance of funding education, with an eye on the future and its impact on all of us. Imagine our future if we don't. Having a well-educated workforce utilizes technology to drive innovation, in turn creating better lives for us all. We all have a piece of this educational pi.
You're invited to share the pi.
pi-ticipate
About piZone.org
As a crowd-source resource for all things related to pi, education, and public outreach, piZone.org strives to touch lives and spark interest in math, science, and technology.
Utilizing online games, videos, activities, demos, art, and even our ABCs of Pi song
to promote the value of action and play in learning, and to illustrate the fun of discovery in math and science. As a "for-purpose organization," piZone is committed to raising awareness of the increasing interest in students and the public on the value of a well-educated and productive workforce, for now and for our future.
We are proud to present our "π it forward" program, where $3.14 of each t-shirt sold in our pi-eShop goes toward providing a t-shirt to an educator.
Updates, posts, videos, images, and the latest on National Pi Day
Facebook http://www.facebook.com/piZone.org
Twitter https://twitter.com/piZone_dot_org
Google+ https://plus.google.com/110059768021006872040/posts
YouTube http://www.youtube.com/user/piZoneSite/Videos
Pinterest http://pinterest.com/pizonedotorg/
Instagram http://www.instagram.com/pizone_dot_org
Post your pi / pi-ticipate.
Share and spark interest in pi.
People's pi-experiences.