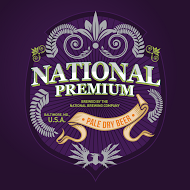 See us at City Paper Brew Fest on April 27.
Easton, MD (PRWEB) April 25, 2013
National Premium Beer is pleased to announce its Spring event schedule. Born on the Bay, National Premium is the perfect complement to the Chesapeake Bay lifestyle.
City Paper Brew Fest will be held on April 27 in Fells Point in Baltimore. This event runs from 1:00 to 5:00 p.m. next to the Bond Street Wharf. This occasion provides a wide range of beers for visitors to enjoy, including National Premium.
Founder Tim Miller is excited about this event, saying, "We love to get out and see people, and share National Premium. We're glad to participate in these fun events."
Visitors to National Premium's web site have the option to become an Ambassador of Good Cheer, to help spread the word about the beer. Ambassadors will receive exclusive merchandise and advance notice to all National Premium events.
Founded in 2011, Miller's National Premium beer appeared on store shelves last Memorial Day weekend. It is now available in Maryland and Delaware and is coming soon to Washington, D.C.
For more information, visit National Premium on Facebook or visit them on the web at http://www.nationalpremiumbeer.com.
###