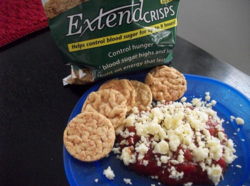 Good blood sugar control, which is aided by soy protein among other ingredients, makes all the difference.
St. Louis, MO (PRWEB) April 18, 2013
Lisa Reynolds was leery when she first tried tofu for the first time several years ago – tofu is one of many popular products made from soy.
Now, the St. Louis mom says she eats it and other soy foods regularly as part of her vegetarian lifestyle. And she is not alone. Over the last 15 years, sales of soy food have increased from $1 billion in 1996 to $5.2 billion in 2011.
"It's all about being the best you can be," said Reynolds, 43, in an interview for the Extend Nutrition Blog. "At first, I wasn't so sure about anything made of soy. It was just different. I had to try it. Now I enjoy its versatility, the fact that it's a plant-based protein and – yes – I really like the taste!"
Reynolds is not the only one singing the praises of soy these days. The benefits of soy are celebrated each April during National Soy Foods Month. Research has shown soy foods may help reduce the risk of some cancers, such as breast and prostate cancer, reduce the risk of osteoporosis, help diabetes and weight management.
Soy foods contain soy protein, a complete source of protein with all the essential amino acids of animal protein, but with less fat, saturated fat and no cholesterol. Soy protein can be found in health food products available in many supermarkets and specialty stores.
It is the main source of protein used by Extend Nutrition, which manufactures soy protein bars, soy crisps, and other high protein snacks that are clinically proven to help control blood sugar for up to 9 hours. The unique snacks, created by Dr. Francine Kaufman, also contain a balance of complex carbohydrates, fiber and a small amount of fats.
"Soy protein is our main source of protein," said Jonathan Lindberg, Extend Nutrition outreach manager. "We use it in our patented formula. In fact, soy protein intake can help reduce heart disease."
Another key ingredient in Extend Nutrition snacks is uncooked cornstarch, a very complex carbohydrate that digests and converts to blood sugar slowly. This blood sugar benefit makes these soy-based snacks particularly helpful for people with diabetes.
Kaufman, past president of the American Diabetes Association and a world-renowned endocrinologist, created Extend Bar, a soy protein bar, in her own kitchen during the early 1990s.
Clinical studies soon followed; first, it was verified that eating Extend Nutrition as an evening snack reduced nighttime hypoglycemia for children with diabetes. A total of 5 clinical studies tested the efficacy of Extend Nutrition and demonstrated benefits for both diabetics and people seeking hunger-solution snacks.
Numerous outside clinical studies have verified that soy foods and/or a soy-rich diet can affect blood sugar favorably. That is why Extend chose to launch a line of seasoned soy crisps called Extend Crisps in 2008. Then in 2010, they followed up with a whole new type of soy crisp, an indulgent treat called Extend Drizzles.
"Good blood sugar control, which is aided by soy protein among other ingredients, makes all the difference," explained Kensey Turnbaugh, brand manager of Extend Nutrition.
"People use Extend snacks to improve their lives in so many ways," Turnbaugh said. "Having high protein snacks that taste good and provide good blood sugar control is something that everyone can benefit from."
+ + +
Invented by Dr. Francine Kaufman, world-renowned endocrinologist and former President of the American Diabetes Association, the patented line of Extend Nutrition Bars, Shakes, Crisps and Drizzles are delicious nutritional snack foods clinically-proven to help control blood sugar for up to 9 hours. Blood sugar control is key to both diabetes and weight management. Extend Nutrition snacks have been endorsed by thousands of doctors, certified diabetes educators, and registered dietitians around the world for over 10 years. The Extend Nutrition blog is updated with new posts weekly and the Extend social media sites are updated daily to stay connected with consumers.
Extend Nutrition products are now available at more than 25,000 retailers nationwide, including your local Wal-Mart, Walgreens, CVS, Target, Kmart and other leading retailers where diabetes nutrition products are sold (near the pharmacy). Extend Nutrition strives to provide families with simple nutritional solutions that deliver peace of mind and confidence resulting in a healthier and happier lifestyle.