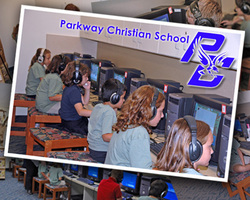 Fort Lauderdale, FL (Vocus) October 28, 2009
Parkway Christian School and Aldo DiSorbo of Nationwide Relocation Services brought his technology initiatives aimed at bridging the digital divide in Broward County, FL with the launching of the Educational Technology Center for students pre-school through 8th grade. The goal of the center is to offer training, skills development and online access for students while preparing students for living in a diverse society.
Nationwide Relocation Services President - Aldo DiSorbo, is the chief supporter of technological advancement at Parkway Christian School. Parkway Christian School is a private Grade School located in Broward County, Florida, and has been operating since the year 2000. The School strive to provide a complete quality education from preschool through 8th grade. Parkway Christian School is devoted to excellence in the spiritual, emotional, and educational development of the children that are in attendance. Parkway's goal is to prepare studnets for living among a diverse society.
The continued technological advancement of a school is imperative to a child's continued growth. With technological advancement come the additional costs of purchasing the necessary tools both for the students and teachers. These additional costs usually are offset by increasing the cost of the student's tuition. Parkway Christian School makes all efforts to keep their tuition cost down, while still maintaining the highest level of education. However sometimes, fund raising and bake sales are not enough.
Aldo DiSorbo, President of Nationwide Relocation Services has not only donated his time, support and staff assistance, he made it possible for Parkway Christian School to purchase the interactive teaching program SuccessMaker. The SuccessMaker® program is a set of computer-based courses used to supplement regular classroom reading instruction in grades K-8. The computer analyzes students' skills development and assigns specific segments of the program, introducing new skills as they become appropriate. As the student progresses through the program, performance is measured by the probability of the student answering the next exercise correctly, which determines the next steps of the lesson.
In addition to SuccessMaker Aldo DiSorbo donations allowed for the purchasing of EdlIne Learning Community Management System. Edline offers an array of technology solutions that support this mission: web hosting, content management, information portals, and tools for classroom management, gradebook, notification, analytics, virtual storage and related technologies. The system allows both students and parents to log in and view a child's performance.
Without the donations, time and effort of Nationwide Relocation Services and Aldo DiSorbo, Parkway Christian School would not have been able to advance technologically.
Mr. DiSorbo would like help Parkway Christian fulfill their next goal. Currently, the educate students from Pre-K through the 8th grade and prepare students for other high schools. The school is currently working on plans to expand to a full life cycle educational program for Pre-K through 12th grade.
###