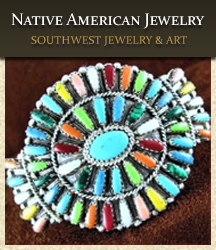 We're excited to announce the launch of NativeAmericanJewelry.com, offering the hottest styles at great prices.
Scottsdale, AZ (PRWEB) August 21, 2012
American Indian jewelry lovers have a new place to find the best prices on a huge selection of jewelry from tribes like the Navajo, Zuni and Hopi.
NativeAmericanJewelry.com is now live and offering a leading selection of Native American jewelry in a variety of popular and sought after styles. From handcrafted necklaces to shimmering pendants and pins, NAJ has the right product for any style or occasion.
"We are proud to announce the much-anticipated launch of this site and we're sure our visitors will find a great deal on all of our Native American jewelry choices," said Steven Onida, NativeAmericanJewelry.com's spokesperson. "We carefully selected the most beautiful and timeless styles to feature during our launch."
NAJ stands out from other online retailers by offering free shipping to all addresses in the United States combined with prices well below the industry average.
"With the fall fashion season right around the corner, we wanted to make sure our visitors have access to the most popular styles at the best prices around," Onida said. "We think visitors will be very happy with the selection, quality and value of our collection."
From expertly designed squash blossom necklaces to dazzling turquoise jewelry selections, NativeAmericanJewelry.com is sure to carry the top styles crafted to the highest standards of beauty and excellence. The entire collection is inspired by the spirit and artistry of the Southwestern tribes that first introduced this style of jewelry to the world.
"Visitors have the opportunity to browse thousands of great products, rate their favorite items and even write reviews to help other people choose their next piece of Native American jewelry," Onida said. "And don't forget to sign up for our email list to get exclusive offer and discounts sent straight to your inbox."
To browse NAJ's huge selection of American Indian jewelry, visit http://www.nativeamericanjewelry.com.