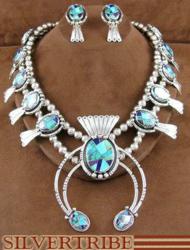 Anyone looking for a truly unique gift this Mother's Day will find some stunning options for the most important women in their lives
Scottsdale, AZ (PRWEB) May 08, 2012
Flowers aren't an option this year with SilverTribe offering huge discounts on a massive selection of Southwest Jewelry. As a leading online retailer of American Indian jewelry, the company provides customers with the best prices on the highest quality products available.
"Anyone looking for a truly unique gift this Mother's Day will find some stunning options for the most important women in their lives," said SilverTribe's spokesperson "We have a massive selection to suit any style or price range."
Those looking for a truly stunning piece of Native American jewelry should consider a squash blossom necklace. These beautiful examples of sterling silver jewelry feature various stones, including turquoise.
SilverTribe also carries a huge inventory of turquoise necklaces and turquoise bracelets sure to please any Southwest jewelry enthusiast. The selection includes designs from the Navajo, Hopi, Zuni and Pueblo tribes, to name just a few.
"We work with some of the most talented artists in the industry to ensure we always have the most sought after styles at the best possible price," said SilverTribe's spokesperson. "Whether you are looking for a beautiful turquoise ring or a dazzling coral bracelet, we have something for everyone."
The tribes of the Southwest are known for their distinctive styles and silver-work. Many of today's Native American jewelry styles honor the tradition of the tribe and also reflect the creativity of the artists who produce SilverTribe's products.
The collection includes multicolor inlay jewelry as well as pendants and pins featuring turquoise, red coral and vibrant opal. With Mother's Day just around the corner, many consumers are looking for a unique gift idea that will be cherished for years to come.
SilverTribe hopes to make Mother's Day truly spacial for its customers this year by offering huge discounts on a huge selection of Southwest jewelry.
To learn more about the discounts being offer for Mother's Day, visit http://www.silvertribe.com.